The Japanese prime minister will visit India next week to focus on promoting a "free and open Indo-Pacific," according to Japan's foreign ministry, amid concerns over Beijing's military claims in the region.
Ministry said Prime Minister Fumio Kishida will kick off his two-day visit to India on Sunday to meet with his Indian counterpart Narendra Modi to discuss strengthening the India-Japan strategic partnership.
Details of the summit are unknown, but Prime Minister Kishida is expected to announce a new strategy for a free and open Indo-Pacific during his stay and seek India's assistance in implementing this strategy.
Arindam Bagchi, spokesperson for India's Ministry of Foreign Affairs, said the government was looking forward to having "rich discussions" with Kishida. He called Japan an important partner for India, ANI News report.
"Japan is a very important partner for us. We have a summit with them every year and this is part of it. I look forward to," he told reporters on Thursday.
Mr. Bagchi declined to give details about an upcoming summit.
"We look forward to moving these discussions forward, but let the leaders talk about what the issues are and what the outcome will be. Bagchi said.
India and Japan have deepened their ties, especially on defense and strategic issues, as they face threats from a dominant China.
Kishida's decision to announce the new strategy at the annual summit between the two countries underscores Japan's emphasis on India as a key player in the Indo-Pacific region.
Japan's National Security Strategy
Kishida's plan is in line with Japan's National Security Strategy (PDF) Japan announced that it would promote joint development of defense equipment and training with "like-minded countries in the Indo-Pacific region."
"Japan is, [Free and Open Indo-Pacific] A more universal, free and fair economic zone around the world, improving connectivity, empowering the governance of countries and international organizations, and increasing efforts to ensure maritime security. Create a rule "
"While utilizing frameworks such as Japan-U.S.-ROK and Japan-U.S.-Australia, Japan will strengthen security cooperation with Australia, India, South Korea, European countries, ASEAN countries, Canada, NATO, the EU, etc."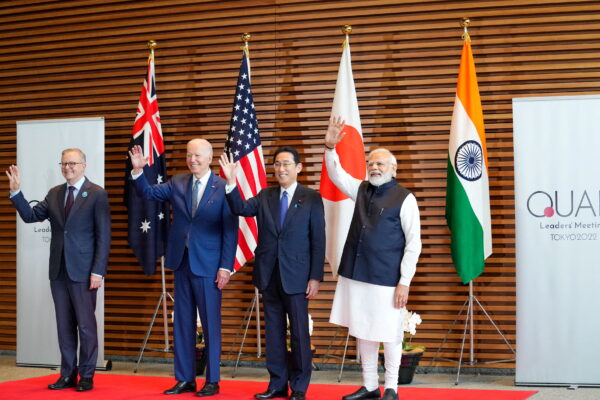 Japan and India are also part of the Quadrilateral Security Dialogue or Quad, an informal strategic group comprising the United States, Australia, India and Japan.
Beijing threat
Quad members step up defense cooperation as concerns grow over Chinese Communist Party (CCP) military claims in the Indo-Pacific region, with Japan describing the Chinese Communist Party as its "greatest threat" to national security. doing.
Japan is concerned about its vulnerability as the Chinese Communist Party expands its military presence near Taiwan and the East China Sea, where the Japanese-controlled Senkaku Islands are located. Beijing's regime has not ruled out the possibility of using force to bring Taiwan under its control.
Relations between India and the CCP have also been strained by border disputes. On December 9, 2022, Indian and Chinese forces clashed on the disputed Himalayan border, sustaining minor injuries on both sides.
Earlier this year, India and Japan held their first joint air combat exercise to deepen their defense cooperation.
Japan has four F-2 fighters and four F-15 fighters participating in the Veer Guardian 2023 joint exercise, while India has four Su-30 MKI fighters, two C-17 transports, Dispatched one IL-78 refueling tanker.
Alexander Zhang, Venus Upadhayaya, and Reuters contributed to this report.