Japan's ruling Liberal Democratic Party has approved a proposal to ease restrictions on the military use of weapons against unmanned aerial vehicles that violate Japanese airspace.
The proposal, put forward by the Ministry of Defense on Thursday, would allow Japan's Self-Defense Forces (SDF) to shoot down foreign balloons and drones to save civilian lives.
Currently, the Self-Defense Forces Law allows "necessary measures" to be taken against foreign aircraft entering Japan's airspace, but the use of weapons is only permitted in cases of legitimate self-defense or necessary actions. .
Proposed policy would allow the use of weapons against drones and balloons that pose a danger to civil air traffic, even if they are not considered legitimate self-defense, Yomiuri Shimbun report.
The ministry said it would take into consideration the flight safety of civil and commercial aircraft before approving the use of weapons against unmanned aerial vehicles under the new policy.
Defense Minister Hamada said the military would be allowed to use weapons, including air-to-air missiles, against foreign balloons that violated Japan's airspace, in accordance with the Self-Defense Forces Law.
"Appropriate equipment will be used when taking this action, depending on the situation," he told reporters. Press conference February 14.
Japan reports 3 Chinese balloon intrusions
The move comes after the Ministry of Foreign Affairs said on February 14 that it "strongly" suspects that Chinese surveillance balloons have entered Japanese airspace at least three times between 2019 and 2021. was broken
according to local report, The first balloon was spotted on November 20, 2019 in Kagoshima prefecture, home to Kyushu Electric Power's Sendai nuclear power plant and a Ground Self-Defense Force garrison.
A second balloon was spotted on June 17, 2020 in Miyagi Prefecture, home to Japan's Air Self-Defense Force facilities. Local government officials claimed that the flying object he had had two propellers and was flying at an altitude of 3,000 meters (about 3,281 feet).
A third balloon was spotted on September 3, 2021 in Aomori Prefecture, home to the Japan Maritime Self-Defense Force's naval base.
Japan's Chief Cabinet Secretary Hirokazu Matsuno has said such violations of its airspace are unacceptable, and Japan urges the Chinese Communist Party government to verify the facts of the situation and ensure that it does not happen again.
The Ministry of Foreign Affairs of China Japan's claim was acceptedbut said that "Japan needs to be objective and impartial" on the issue.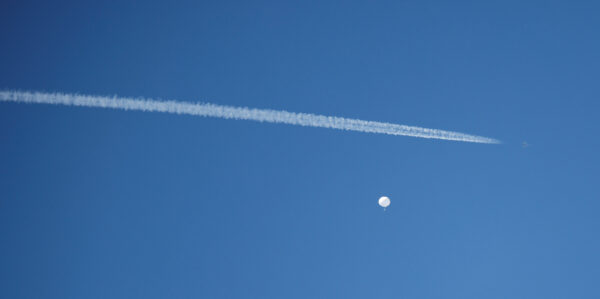 Japanese authorities first announced on February 8 that they were investigating a past airborne incident. On the same day, Secretary of State Anthony Brinken announced that China's reconnaissance balloon program is in at least 40 countries.
"We already share information with dozens of countries around the world, both through Washington and through our embassies," Brinken said at the time.
"Because the balloon program is not just targeting the United States, it is violating the sovereignty of countries on five continents."
White House National Security Council spokesman John Kirby said on February 13 that the spy balloon program had ties to the Chinese military and targeted the United States' "closest allies and partners."
Suspected Chinese balloon crashes near Taiwan
Taiwan on Thursday (16 February) found the wreckage of a crashed weather balloon believed to be from China near Dongyin Island, part of the Taiwan-administered Matsu archipelago off the coast of Fuzhou, the capital of Fujian province. announced that it had found
Defense Minister Qiu Guocheng told reporters at the National Assembly on February 17 that the ministry had sent a team to investigate the crashed balloon.
"The Armed Forces .
Defense Ministry spokesman Sun Li-fang told Bloomberg on February 13 that Taiwan would take appropriate action against emerging threats, including shooting them down, based on the level of concern. Told.
"The ministry has rules on how to respond and will continue to revise the rules in a timely manner to respond to new threats such as balloons," Sun told news outlets.
Reuters contributed to this report.
Andrew Thornebrooke contributed to this report.