[ad_1]

Prime Minister Rishi Sunak faces criticism from within his party as a new Conservative group loyal to former Prime Minister Boris Johnson holds its first official meeting.
The Conservative Democratic Organization (CDO), set up in anger over Johnson's dismissal and Sunak's taking office without a party vote, held its first meeting in Bournemouth on Saturday.
The group, backed by Conservative colleague and donor Lord Cruddas and organized by Brexiteer David Campbell Bannerman, is committed to bringing democracy back to the Conservative grassroots.
Johnson did not attend the meeting himself, but sent a video message thanking CDO members for continuing the movement "for freedom and democracy".
Speakers at the conference included some of Johnson's most prominent supporters, even though the group has repeatedly said it doesn't focus on Johnson's return.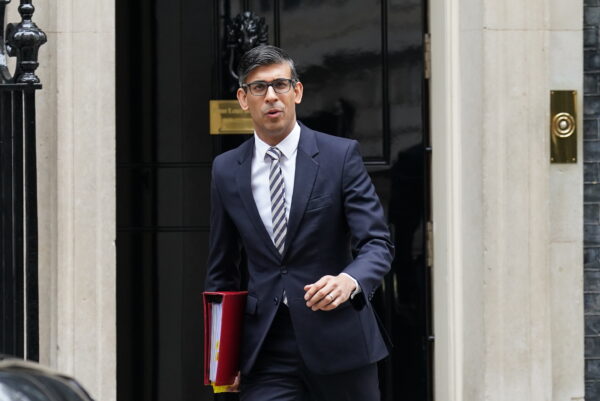 'It hurts our party'
Former Home Secretary Priti Patel told the conference that the Conservative Party had not covered itself with "glory" over the past year, adding: Even left-wing campaign groups and civil servants you know we all struggle with every day. "
She lamented Mr Johnson's ouster, calling him "the most elected Prime Minister since Margaret Thatcher".
Mr Patel said the parliamentary Conservatives "turned their backs on their members and effectively cut the golden thread of democracy from the very bottom of the party to the very top", adding: "We must rebuild it". added.
Former culture minister Nadine Dries said at the conference that the Conservative Party was "adrift" and "no longer has that inspirational leader and visionary policies that make people go and vote". said.
That comes after the Conservative Party lost more than 1,000 MPs in local elections earlier this month and overall lost control of 48 parliaments.
Brexit lawmakers were even more outraged last week by the government's decision to revoke some 600 Remaining EU laws by the end of the year, rather than the 4,000 they had promised.
But Johnson's supporters didn't go so far as to suggest that the former prime minister should return.
Former cabinet minister Jacob Reesmogg said firing Johnson was a mistake, but argued firing Sunak would be an "even bigger mistake".
"The Conservatives would be delighted if we change leadership again… but that doesn't mean they agree with the Prime Minister on every policy," he added.
"Recipe for Disaster"
Sunak used an interview with the Mail on Sunday newspaper to highlight his Brexit entitlement, stating: "I voted to leave the EU, I campaigned for it, I believed in it. "When I was prime minister, I started telling people the benefits of leaving the EU."
Tobias Ellwood, the senior Conservative MP for East Bournemouth, accused his party colleagues of fomenting the division.
The chairman of the National Defense Committee wrote in The Times: "A powerful anchor of the right-wing caucus has joined our ranks, and the prospect of victory in 2024 has already disappeared.
"At the end of the 10th place in national affairs and ushering us into much calmer waters, there is a not-so-slick conspiracy to turn our party to the right in the midst of the blame war that inevitably follows an election loss. It's in progress."
He criticized tax cuts, "European bashing" and an overly focused focus on culture wars, warning that "this is both reckless and dishonest and a recipe for disaster." We are failing to recognize our battle chances to win. "
Energy Secretary Grant Shaps downplayed signs of unrest within the Conservative Party.
He told the BBC on Sunday: "Despite years in power and having to put up with the pandemic, the war in Ukraine, and all the costs that come with it, I think this party is still a really vibrant party," he said. We can get together and hold meetings and put forward various ideas. "
PA Media contributed to this report.
[ad_2]