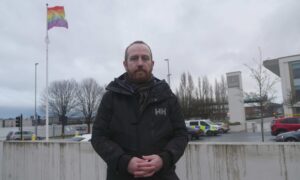 A judge overturned the conviction of a Christian street preacher who was arrested and reported to Prevent for "misgendering" members of the public.
Dave McConnell, 42, was found guilty in Leeds Criminal Court on Thursday after being arrested under Section 4A of the Public Order Act 1986 for insulting a civilian in Leeds city center on June 8, 2021. I was appealing the judgment.
The arrest came after he "misgendered" someone who self-identified as transgender.
of Footage from McConnell's body-worn cameraFarah Mounir is seen approaching a preacher and asking, "Will God accept the LGBT community?"
In the video, McConnell refers to Mounir as "the man" and "this gentleman". The crowd yells "hate speech, hate speech" as the police arrive.
McConnell was later arrested after an officer said, "Listen, she said she was a woman, and I don't have it."
"She asked me, he asked what I thought," McConnell replies. At that point, the officer handcuffed him and added, "OK, you're under arrest."
joint counter-terrorism team
McConnell was convicted last year in Leeds Magistrates Court of harassing, admonishing or inflicting pain on Munir and was given a 12-month community order with 80 hours of unpaid work. Upon his conviction, the probation service reported McConnell to the Joint Counterterrorism Team before the sentencing hearing.
A team of lawyers backed by the Christian Legal Center sought to overturn the conviction, claiming the police response was illegal and disproportionate and violated his rights under Articles 9 and 10 of the European Convention on Human Rights. It was made.
McConnell's allegations were supported by evidence from Sex Matters campaigner Maya Forstater and Free Speech Union general secretary Toby Young.
On Thursday, the judge in the case, Recorder Anthony Hawkes, sat down with two magistrates to allow the preacher's appeal against his conviction.
At the start of the hearing and before cross-examination, Hawkes said of petitioner, "This is a woman. There will be no further discussion."
During the proceedings, the arresting officer was asked why he arrested McConnell after initially suggesting he move on.The officer said, "He wanted to advocate for his right to free speech. I don't think the crowd would allow him to preach anything… When was the last trigger?" [McConnell] called the victim the man in the dress. I stopped him and told him I was told the victim was a woman. "
Asked in court if he knew that it could be an insult to "misgender" a transgender person, McConnell replied: I was telling the truth. "
He said in court: My intention was to stay true to my beliefs, to stay true to God, and to stay true to my conscience. "
"I was not transphobic. I was expressing what I believed," he added.
"Appalling"
Hawks said McConnell's "misgendering" petitioner hurt petitioner, but that "it is not a crime to insult someone."
Furthermore, he said under the Public Order Code, "It is not enough to show that the words were offensive." [the complainant] I was worried. "
"They have to prove that we are convinced as a bench. [McConnell] He used words meant to inflict pain," he said.
"[McConnell] He said he had no such intentions. He says he goes out to preach God's word and the last thing he wants to do is get upset. He said he meant no pain and was just repeating what he wholeheartedly believed to be the teachings of the Bible. "
The judge concluded that there was no evidence that McConnell intended to harass Munir.
After the hearing, McConnell said he was "pleasantly relieved," adding, "But I am appalled at how the authorities have treated me in this matter.
"No other street preacher, professional, or ordinary citizen has to go through what I have.
"Misgender is not a crime and should never be treated as such."
He added, "The treatment I received was totally unreasonable and should concern anyone who cares about Christian freedom and freedom of speech in this country."
'Disturbing trend'
Andrea Williams, CEO of the Center for Christian Law, said, "This case marks the indictment of ordinary citizens and professionals as potential terrorists for their refusal to applaud and endorse LGBTQ ideologies. , represents a disturbing trend in our society that has been reported.
"Police carrying pride flags from headquarters have failed to provide equitable protection to Christian preachers. It is the street preacher who is taken away. This is very liberal," she added.
PA Media contributed to this report.