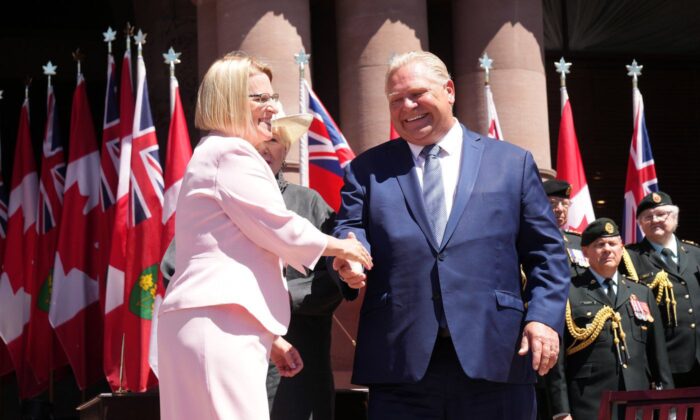 Deputy Prime Minister and Minister of Health Sylvia Jones shakes hands with Prime Minister Doug Ford during the swearing-in ceremony in Queens Park, Toronto, June 24, 2022. (The Canadian Press/Nathan Denette)
Ontario Prime Minister Doug Ford and Attorney General Sylvia Jones have been subpoenaed to appear as witnesses in a public inquiry into the federal government's use of the emergency law after voluntarily refusing to appear.
Lawyers for the Public Order Emergency Committee said they asked Ford and Jones to agree to an interview on Sept. 19, but the two declined several requests.
The commission asked both to appear as witnesses, but Ford told reporters last week that he was not asked.
According to a letter sent today by the commission's attorneys, they believe Ford and Jones have relevant evidence to order an investigation.
The Commission has the power to summon witnesses to testify.
A public inquiry, launched earlier this month, is tasked with investigating the Trudeau government's February decision to invoke the state of emergency law.