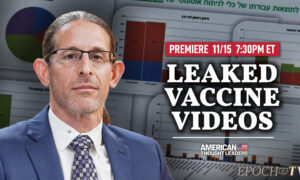 The episode will premiere on Tuesday, November 15th at 7:30 PM ET.
"The Israeli Ministry of Health actively hides important information about vaccine side effects from the Israeli public," said Lessef, a risk management and health systems expert and professor at the Massachusetts Institute of Technology Sloan School of Management. Levi says. He co-authored a paper that found a 25% increase in heart attack emergency calls among young Israelis after the country rolled out its COVID genetic vaccine.
Take a look at a series of leaked videos that show authorities in Israel, one of the most vaccinated countries in the world, knew more about vaccine side effects than they gave out. .
"Why does it matter outside of Israel? …Because Israel was essentially the first country to launch [a] It was a nationwide vaccination campaign, and we did it under a very unique deal with Pfizer. This essentially made Israel a global laboratory for the rest of the world. Quote and trust. "
Register with America's Thought Leaders Newsletter Never miss an episode.
href="https://www.epochtv.shop/product-page/dvd-the-real-story-of-january-6″>https://www.epochtv.shop/product-page/dvd-the- real-story-of-january-6, 20% off with promo code "Jan".
*If you click the "Save" button below the video, you can access it later in "My List".
follow Epoch TV On social media:
twitter: https://twitter.com/EpochTVus
Rumble: https://rumble.com/c/EpochTV
True Society: https://truthsocial.com/@EpochTV
Acquirer: https://gettr.com/user/epochtv
Facebook: https://www.facebook.com/EpochTVus
Gab: https://gab.com/EpochTV
telegram: https://t.me/EpochTV