[ad_1]

Samsung's vice chairman Lee Jae-yong's cousin, Chung Yong-jin, recently posted a series of posts on his Instagram account saying, "I hate the Communist Party," which has sparked a lot of controversy. Many Korean media reported it.
On November 15th, Chung posted a photo on Instagram showing him holding a red purse in one hand and a pizza package box with the red trademark Jackson printed in the other. The other two men who were with him wore red hats and also had red purses. Chung wrote: [red] I feel like the Communist Party. I'm following Jackson brand pizza. I hate the Communist Party. "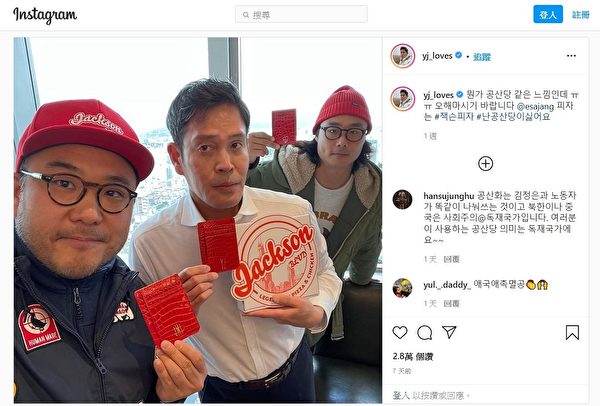 The post quickly collected a lot of replies. Most of the answers said, "I also hate the Communist Party."
Some have responded to express their concerns. One wrote, "China will get angry." Another person wrote: When the Chinese Communist Party learns about it, you will run into big problems. "
Mr. Chung, Vice Chairman of the retail giant Shinsegae Group, is well known in South Korea. His grandfather is Lee Qin, the founder of Samsung Group. His mother, Lee Ming-hee, is the chairman of Shinsegae Group and was once the wealthiest woman in South Korea. Chung is considered the actual head of the company because Lee has withdrawn from the frontline business.
Unlike most business tycoons, Chung is very amiable. He often shares his daily life on Instagram and has more than 700,000 followers.
Chung had a painful experience in China. E-mart, a large supermarket under the Shinsegae Group, entered China in 1997 and has grown to nearly 30 stores at its peak in the Chinese market. However, he continued to lose money after that. In addition, in 2017, in retaliation for South Korea's deployment of THAAD, the Chinese Communist Party government used economic coercion to cost many South Korean companies. The New World eventually withdrew completely from the Chinese market.
"We hope to learn from the tragic failures in the Chinese market and choose to do business in unrestricted developed countries," Chung said at the 2018 recruitment expo.
E-mart's supermarket has withdrawn from China, but Shinsegae Group's separate subsidiary, New World International, operates in China and most duty-free shop customers are Chinese.
Mr. Chung's November 15th post sparked a heated debate, which was widely reported by the Korean media. On November 17, Chung posted a screenshot of the news report on Instagram, expressing concern that Chung's Shinsegae Group might encounter a boycott in China due to his anti-communist statement. ..
Chung's new post following the news coverage reiterated his stance. "I really hate the Communist Party … this is what I learned in elementary, middle and high school."
"Thorough anti-communism, the spirit of democracy, and patriotism are our way of life and the basis for realizing the ideals of a free world," he continued.
His post cites part of the Korean National Education Charter, which is the basic educational philosophy of the Park Chung-hee administration in South Korea and was mandated by elementary schools in the 1970s and 1980s.
On November 18, Chung posted a photo of himself wearing a celebrity sweatshirt with baseball gloves on Instagram, stating, "I hate the Communist Party … I'll never retreat."
On November 19, he shared a screenshot of a news report expressing concerns about shareholder interests, saying Chung's post could arouse consumer resentment.
In response, Mr. Chung wrote that he hates the Communist Party no matter what.
Chung's replies to Instagram are mostly praise and support.
Netizens write, "If the Chinese don't buy from you, we'll do it!"
"It's normal to hate the Communist Party," another said.
One praised Mr. Chung for his courage, saying, "Never retreat. How handsome you are!"
[ad_2]