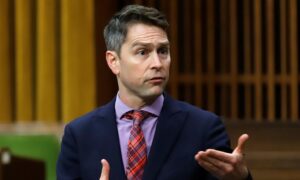 Ottawa — Liberal MP William Amos was again unnoticed on a webcam.
Quebec, a member of the House of Representatives, said in a statement posted on Twitter late Thursday night: "Last night, when I was virtually attending the minutes of the House of Representatives in private, I was unaware that I was in the camera. I urinate. "
"I am deeply embarrassed by my actions and the pain that those who witnessed them may have caused," Amos wrote. "It's a coincidence and invisible to the general public, but it's completely unacceptable and we apologize for the inconvenience."
He added that he could temporarily move away from his role as Parliamentary Secretary to the Minister of Industry, François Philippe Champagne, and as a member of the House Veterans Affairs Committee, and get help.
Amos, who has been representing Pontiac horseback riding since 2015, said, "I am grateful that I can continue to represent my voters and speak for their voice in Congress. Family."
Last month, Amos appeared naked in Congress's internal feed during the Virtual Question Period, and his image wasn't broadcast in the public feed, making headlines around the world.
Amos says he was changing clothes after jogging and didn't notice that his laptop's camera was on.
Senator Bloc Québécois Sebastien Lémil apologized in the House for taking a screenshot of the moment, how the photo quickly flowed to the media and eventually distributed online worldwide. He said he didn't know if it happened.
Earlier this month, at a meeting of the House's governing body, the All-Party Economic Committee, liberal whip Mark Holland revealed where Remir sent the images and what his intentions were. Said it should be.
The board was scheduled to meet again early Thursday, but the meeting was postponed.