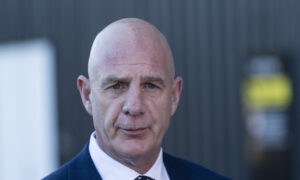 Tasmania's Liberal Party has claimed victory in three consecutive historic elections, but it's probably not clear for days if it can dominate the majority.
Prime Minister Peter Gutwayne is confident that he will have the 13 seats needed to provide a majority to the government in the 25 state chambers, but he does not guarantee.
It continues to count after Saturday night polls, focusing on important races in the Hobart-based Clark constituency. There, independent Christie Johnston and Sue Hicky are voting strongly.
Liberal success in one of the two questionable Clark seats can win a majority of the party, and independent success can spawn a kingmaker.
Under Tasmania's unique Hair Clark voting system, each of the five electors in the state elects five members of parliament.
Election analyst Kevin Bonham said the Liberal Party was likely to win one of the suspicious Clark seats, but the situation was "very complicated."
"We probably won't know for sure until the settings are distributed days ahead," he told AAP.
"They have to wait for all the mail to come."
Simon Berakis, one of the Liberal Party candidates still vying for Clark's seat, said he was confident that the party would win the 13th seat needed for a majority.
As of Sunday afternoon, nearly 80 percent of state-wide votes were counted.
In Tasmania, pre-voting and postal voting surged, with a total of about 70,000 votes, in line with trends seen in mainland jurisdictions during the pandemic.
Workers have won at least eight seats, and Greens seems to have won two.
Gutwayne said Saturday night he was confident that he would save him from his own promise to resign if the government failed to claim a majority and win altogether.
He called for elections a year earlier than planned to take advantage of the high approval rates resulting from coronavirus control.
Since the hit of COVID-19, the incumbent government has been returned in all five state and territory elections.
Workers admitted the eve of defeat in Tasmania on Sunday and set foot on the ground without holding a press conference.
State leader Rebecca White, who has now defeated the party in two elections, did not comment on her future in a concession speech on Saturday.
Gutwain sent voters to vote after Ms. Hicky left the Liberal Party and fell into a minority government.
The Greens took a healthy swing and confirmed that leaders Kathy O'Connor and Rosalie Woodruff were reelected.
By Matt Coughlan and Ethan James