The UK-based Persian-language television station said it was moving its London studio to the US as a result of growing threats from the Iranian regime and security advice from British police.
In a statement on February 18, the channel said:
The decision comes days after London's Metropolitan Police announced that a man had been charged with terrorism after being detained at Iran International's headquarters in Chiswick Business Park.
London's Metropolitan Police last week said police had uncovered 15 plots by Iranian intelligence to kidnap or kill Britons or "British-based" dissidents since January 2022.
"Undeterred"
Mahmoud Enayat, general manager of Iran International TV, said in a statement: A foreign state poses a grave threat to British citizens on the British mainland and we must move.
"Let me be clear, this is a threat not only to our TV station, but to the British people as a whole. Moreover, this is an attack on the values ​​of sovereignty, security and free speech that Britain has always held dear. .
"Our journalists work day and night to reach Iran's 85 million people and their diaspora with the independent, uncensored news they deserve. We refuse to. We will continue broadcasting. We are not upset."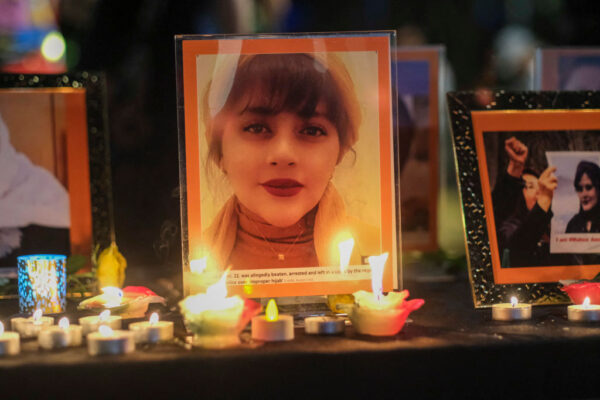 Iran International TV has been critical of Tehran's regime and has extensively covered anti-government protests in the Islamic Republic. The first to break out in Tehran on Sept. 16 was Mahasa Amini, a young woman from Iran's majority Kurdish city of Saqez. She died while in the custody of the regime's so-called moral police.
Hundreds of demonstrators and dozens of security personnel have reportedly died in protests since September last year.
Iran has accused regional rival Saudi Arabia of funding the channel. Saudi Arabia has not commented on Tehran's allegations.
'Serious concern'
The channel made the decision to move just days after a man was charged with terrorism offenses after being detained near his London studio.
Magomed Hussein DovtaevThe 30-year-old Austrian national was charged on Feb. 13 with "gathering information of a kind that could be useful to someone committing or preparing to commit an act of terrorism," according to the Met.
Dovtaev was arrested on February 11 on the Chiswick Business Park grounds.
Deputy Commissioner Matt Jukes, head of the counter-terrorism police, said in a statement: Safety of people working for this company.
"This has led us to give further advice and the company is currently relocating.
He added: Relocation advice is not given lightly.
"The situation facing journalists around the world and the fact that some journalists face foreign hostility while in the UK is a difficult reality that we are determined to face. ."
"Completely unacceptable"
Despite being some 4,000 kilometers away, Iran's repressive regime casts an ominous shadow over the lives of Iranians living in the UK.
A London-based Anglo-Iranian man told the Epoch Times he feared for his safety in Britain after speaking out against the Iranian government.
Business owner Kamran, whose name has been changed, said he was "threatened and harassed" at protest events and felt "constantly watched".
He said Tehran has expanded its "tentacles" in the UK by establishing a "charity center" or "Islamic center" associated with the regime.
"The British government seems to have completely turned a blind eye to this," he said.
The British government responded to the broadcaster's move by denouncing the "lack of respect for fundamental rights" shown by the Iranian regime.
"Media freedom is an important part of our society, and journalists should be able to independently investigate and report without fear," the spokesperson said.
"We will not tolerate any threats to media organizations or journalists. We know that the Iranian regime has established this type of behavior pattern. and a lack of respect for fundamental rights.
"Police continue to work to respond to this threat. We will continue to use all tools at our disposal to protect British individuals from threats from the Iranian state."
Patricia Devlin, Reuters, and PA Media contributed to this report.