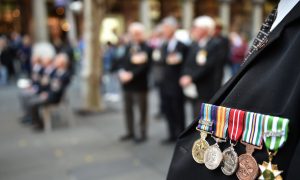 As they will never forget, the declining population of Australian World War II veterans suggests an imminent loss of so-called "living memories."
For war historian Robin Pryor, it's a terrifying outlook, leading to the rise of radicalism and denialism.
As Anzac Day approaches, he states that the most important contribution to the annual memorial was the direct report of the war by older veterans.
"What's disappearing is the opportunity to speak directly to the camera. They told us they fought for democracy, they fought to maintain our way of life," Praia told AAP.
"It's dangerous when the veterans themselves are no longer around to talk about it."
This is an issue that is already prominent in the United States, where right-wing militants question the credibility of persecution in the absence of Holocaust survivors.
"What we saw was that there were still no people who could look directly at the camera and say,'I was in Auschwitz, it happened'," Praia said.
"It's a very dangerous moment when denialists and radicals of all kinds can say,'Well, it was just a myth.'"
Veterans left countless letters, diaries, and recorded interviews at the Australian War Memorial, none of which can replace direct testimony.
"It doesn't have to be disastrous. There is other evidence, but nothing beats the opinions of those who have experienced it on their own," said Prior.
read more
Understand the political spectrum
It is believed that less than 3,000 of the 600,000 Australians who served during World War II are still alive.
According to the Department of Veterans Affairs, there were only 13,278 veterans on the mid-2018 health card list, up from 23,000 in the previous year.
Eventually, what Prior calls the influence of their "stable hands" disappears altogether, and the views of the denials and militants they offset continue.
"Just by looking at the internet, we can see that there are already more radicals now," said Praia.