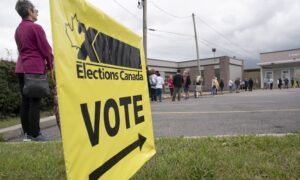 A majority of Canadians are concerned about the Chinese Communist regime's interference in Canadian society. new vote 7 out of 10 see it as a major threat to the country's democracy.
A poll conducted by Nanos Research found that more than 9 in 10 Canadians are concerned (59%) or somewhat concerned (32%) about Beijing's interference with Canadian soil. increase.
The findings are based on 1,012 randomized online surveys of Canadians aged 18 and over between February 26th and March 1st.
A poll commissioned by CTV News and published March 3 found that older groups of people were more concerned about the issue than younger groups.
Respondents aged 55 and older (68% concerned, 27% somewhat concerned) were more likely to Indicates "strong concern".
The poll has publicly asked Prime Minister Justin Trudeau to investigate recent reports of alleged Chinese foreign interference operations in Canada, including but not limited to interference in the 2019 and 2021 federal elections. It came in the midst of a bipartisan call for an investigation to be launched.
Among the allegations is the November 7, 2022 report. global news China funded at least 11 candidates in 2019 campaign, and report last month earth and mail Leaked Canadian Security Intelligence Agency (CSIS) documents say the Chinese government was trying to interfere in Canada's elections, in part to force the election of a minority Liberal government.
Prime Minister Trudeau insists Canada's electoral process is intact.
'Significant threat'
Jody Thomas, Trudeau's national security and intelligence adviser, testifying before the House Procedural Committee (PROC) on March 1, said the prime minister had "multiple times" accounted for Beijing's interference in both elections. said he received it.
CSIS Director David Vigneault was also summoned to attend a PROC hearing the next day in light of documents reportedly leaked from his agency. The director said it was his opinion that there had been no incidents that threatened the integrity of the recent elections.
A Nanos poll found that nearly all respondents agree that Beijing's efforts to interfere in the 2021 federal election are a threat to the country's democracy. 71% said it was a serious threat and 23% considered it a minor threat.
When asked about Canada's ability to protect elections from foreign interference, only 18% say Canada is doing a 'good' (15%) or 'very good' (3%) job.
These results were in stark contrast to those who disagreed. When asked about Canada's efforts to protect electoral integrity for foreign state actors, just under 40% said it was either "bad" (20%) or "very bad" (19%).
Another 30% said "Normal" and 13% said "Don't know".
On March 2, the PROC passed a motion calling on the Trudeau government to initiate a public inquiry into investigating China's election interference. The motion, introduced by NDP MP Peter Julian, passed by a vote of 6 to 5, with the liberal MPs voting against.
Andrew Chen and Peter Wilson contributed to this report.