A man has been charged with slipping out of a line of mourners at Westminster Hall on Friday night to approach Queen Elizabeth II's coffin.
"Muhammad Khan, 28, of Barleycorn Way, Tower Hamlets, was charged on Saturday, September 17, with charges under Section 4A of the Public Order and Morality Act: Behavior intended to warn, harass or cause distress," it said. London Metropolitan Police said in a statement.
Khan will be taken into custody at Westminster Magistrate's Court on Sept. 19, police said.
The incident occurred around 10pm on Friday, briefly cutting off the live feed from inside the hall.
According to eyewitnesses and video footage, men who had been queuing in front of the coffin rushed to Catafalk, pushing a seven-year-old girl away on the way. He touched the coffin and apparently lifted his royal standard and was knocked to the ground by police officers.
Eyewitness Tracy Holland told Sky News that when her 7-year-old niece Darcy was about to see the crown, "someone pushed her away and ran to the coffin and decided to lift the bar and try it." rice field. I don't know what to do
"Darcy was caught on the way, and the police caught him within two seconds," she said.
Another eyewitness, John Williams, told MailOnline that the man had been in line for 14 hours, but unlike other people in line talking to each other, he was alone.
Queues that go on for miles
A 19-year-old man is said to have exposed himself by pushing from behind mourners waiting in line at Victoria Tower Gardens on Wednesday.
The man, later identified as Adio Adesin by the Metropolitan Police, was charged on Friday with two counts of sexual assault and two counts of violating a sexual harm prevention order.
He has been remanded into custody and is scheduled to appear in Southwark Crown Court on October 14.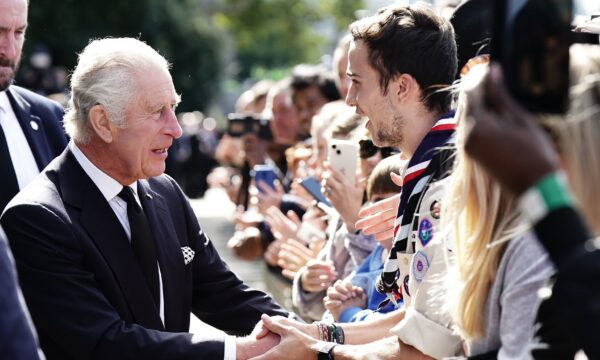 Since Wednesday evening, hundreds of thousands of mourners have joined miles-long lines to pay their respects to the Queen.
On Sunday morning, the government warned people not to leave their homes and wait in line.
The Department of Culture, Media and Sport (DCMS) said:
"Waiting time is already 13.5 hours and could increase. To avoid disappointment, please do not leave to join the queue."
Lily Zhou and PA Media contributed to this report.