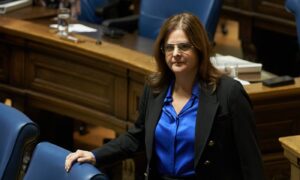 The Manitoba government is spending $2.1 million on a new child abuse investigation unit.
Prime Minister Heather Stephenson said she will work with the Winnipeg Police Service and the RCMP to build an integrated statewide child response unit based on services provided by the Toba Children and Youth Center.
Stefansson said the money is part of a $52 million crime-fighting pledge the government put into its budget earlier this month.
Minister of Justice Kelvin Herzen says child abuse and exploitation has increased in the last five years in Manitoba.
The fund also aims to help victims and their families find the support they need after a crime.
The Toba Center, which opened in 2013 and is qualified for forensic interviewers to help abused children, will house the new unit there.
"Having a wraparound, child-centered care facility was embroiled in these tragic and traumatic circumstances," Stefansson said in announcing funding on Sunday at the new location of the Toba Center, which is still under construction. It's important to the health, healing and well-being of our children and families," he said.
"And having an integrated and dedicated police resource makes this model accessible to children across the state."
The funding is the latest in a series of crime-fighting announcements by the Progressive Conservative government ahead of elections scheduled for October 3.
"With our violent crime strategy, we are creating a balanced approach to creating safer streets," Herzen said in a news release on Sunday.
"We are addressing the root causes of crime by increasing funding for the homeless and accommodation while cracking down on violent offenders and repeat offenders."