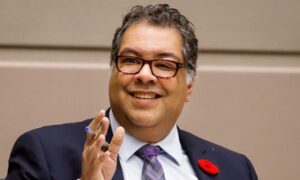 Mayor of Calgary, Naheed Nenshi, will not run for the fall local elections.
When elected in October 2010, Nenshi, the first Muslim mayor of a large Canadian city, announced on social media on Tuesday.
The 49-year-old Mayor of Calgary, who holds a master's degree from Harvard University, has been the mayor for three terms.
He said it was an honor of his life to lead the city.
"It was a difficult decision, but in the end I think it's the right decision for me. I want Calgary to make the right decision," Nenshi told Facebook live stream.
He went nowhere and added that his family was fine, but it was time to make room for work for someone else.
Nenshi said he sought a lot of advice on this issue. But the most difficult conversation he had was with himself.
"Is it irresponsible at this time to pass the baton at such an important time for Calgary, where we are facing so many different things?"
Nenshi knew it would be his last term, but hadn't decided when to publish it.
"I made a decision last Thursday … Now I have to strip off the band-aid and talk to people."
Nenshi, who oversaw Calgary in the 2013 flood, said he didn't expect the COVID-19 pandemic to change that much.
"In 2019 … I never thought this would be the last time to ride a horse in the Stampede Parade. This may be the last time I hit the fireworks button on Canada Day."
"Like many of us, COVID has robbed a lot, and it's a little regrettable for me."
Prior to entering politics, Nenshi was a business professor and management consultant at Mount Royal University in Calgary.