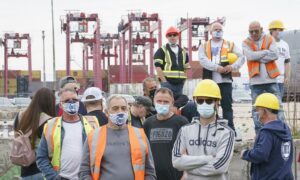 Montreal — Operations at the port of Montreal are expected to gradually resume on Saturday after the Senate has passed legislation requiring strike workers to return to work.
The House of Commons approved the bill on Thursday and was discussed and approved by the Senate late Friday.
The Maritime Employers Association has issued a statement that activity at the port will gradually increase.
Port authorities say it will take several days to resume operations and reestablish normal commodity flow, and customers waiting to import or export goods should anticipate delays.
Michelle Murray of the Canadian Civil Service Union calls the federal reinstatement law an attack on workers' constitutional strike rights.
He told reporters in a May Day protest in Montreal that the union would take legal action and file a complaint with the International Labor Organization.
The new law provides that a mediator arbitrator will be elected within a few days and the latest collective bargaining agreement will be extended until a new deal is established.
The port's 1,150 workers have not signed contracts since December 2018.