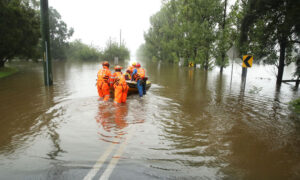 Australia's New South Wales (NSW) catchment area was hit by a widespread flood two weeks ago, with the potential for slight inundation.
The last remaining New South Wales residents displaced from their homes by the floods have just been allowed to return, but another storm system is underway that can strike already flooded catchments.
People living in the lowlands of Freemans Reach on the Hawkesbury River north of Sydney were given permission to go home on Thursday night, 11 days after they were ordered to leave.
The All Clear was the final evacuation order issued by the State Emergency Services after the team assessed the damage in the area and lifted after extensive floods throughout New South Wales.
However, the Meteorological Department has warned that communities in the northern part of the state may soon be hit by another flood that is still being wiped out of the last flood.
Flood warnings have been issued for the Tweed, Brunswick, and Wilson rivers in the northern part of the state.
Cyclone valleys bring heavy rains from Sunday and may cause minor floods in the Northern Rivers region from Monday.
The agency also predicts heavy rains on the southeast coast of Capricornia, Wide Bay, Queensland, from Sunday to Tuesday.
Maria Frazer, an NSWSES incident controller, urged residents in the path of the system to prepare their homes, prevent damage, and minimize the workload of exhausted volunteers.
"The catchments throughout the northern zone have been flooded by recent floods, and the affected catchments may respond quickly to further rainfall," she said.
The warning is issued when the state's Environmental Protection Agency states that the heavy floods last month and the subsequent warm, sunny weather are causing fish kills and foul odors.
Tiffany Turnbull