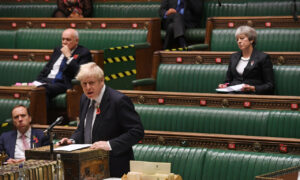 The UK government needs to provide transparent criteria for lifting lockdowns, says a report by a committee of MPs that cites "serious concerns" about lack of clarity.
"For the Government to build public confidence, it is absolutely vital that it is open on how it reaches its decisions and the data underpinning them," MP William Wragg, chair of the Public Administration and Constitutional Affairs Committee (PACAC), said in a statement.
In their report published on Monday, the committee called on the government to learn from past failures in data handling.
"The framework for lockdown and tiering decisions has changed repeatedly throughout the pandemic," reads the committee statement.
"While the Committee does not object to the inclusion of new factors in decision making, changes in the framework so far have not appeared to reflect new information. This has amounted to a moving of the goalposts, created uncertainty, and must stop."
Last autumn, the government came under fire over one particular chart that was used to justify further lockdowns—predicting 4,000 deaths a day—despite drawing on already out-of-date modelling.
Some MPs accused ministers and scientific advisers of trying to frighten the country into lockdown.
In total, 53 Conservative MPs defied the party whips and refused to endorse the lockdown plans with many citing concerns over the presentation of the statistics.
In their report on Monday, MPs said that the Ministerial Code needed bolstering to made it clear that ministers must follow the UK statistics code when presenting data.
They also said that the government's scientific advisers should follow a standard of conduct similar to that required by civil servants.
"When SAGE advisers speak publicly about the advice they have given to Government it has the potential to create confusion and undermine trust," the report states. "SAGE is made transparent through the official records of discussions and advice published, and it is important that this is not framed or politicised by individual advisers."
The report described Cabinet Minister Michael Gove's refusal to testify before the committee for the report as "contemptuous of Parliament."
A government spokesperson told The Epoch Times via email, "As this report makes clear, the Government has overseen a 'remarkable effort pulling together data on Covid 19' and 'made much of this data and analysis available to the public'."
The spokesperson said that the government had provided direct public scrutiny via 77 sets of SAGE papers and provided transparent data at over 125 ministerial press conferences alongside scientific experts.
The government also rejects the characterisation of Gove as being contemptuous of Parliament.
"The Chancellor of the Duchy of Lancaster has appeared before PACAC three times during the pandemic, and has offered to appear again after recess," the government spokesperson said. "Cabinet Office ministers and officials have contributed to nine evidence sessions with the committee in 2020/2021, totalling over 14.5 hours of scrutiny.
"We look forward to engaging with the committee's recommendations, and will respond fully in due course."