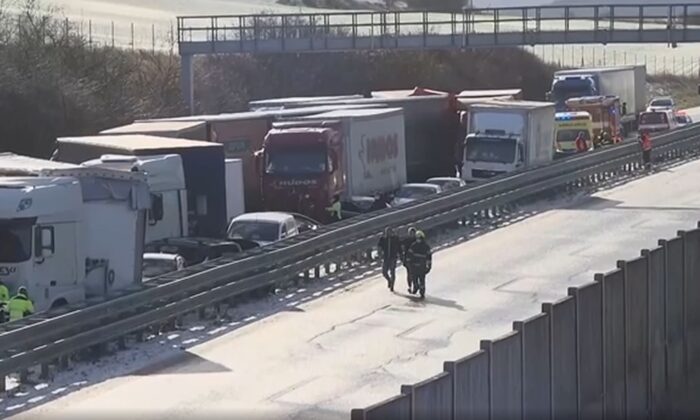 Trucks and cars involved in multiple car accidents on the D5 highway near Zebrak in the Beroun region of the Czech Republic on January 20, 2022. (Screenshot via AP / Epoch Times)
Prague — A blizzard that struck the Czech Republic caused multiple car accidents on Thursday, completely closing one of the major highways near the capital, Prague.
According to police, about 40 cars and trucks were involved in the pile-up that occurred on the D5 highway 33 kilometers (20 miles) southwest of the capital.
D5 is one of the two main routes connecting Prague and Germany. It will remain closed for hours.
Local rescue teams said at least six people were injured. Two of them were taken by helicopter to a hospital in Prague.
The Czech Hydrometeorological Research Institute warned Thursday that snowfall is expected throughout the Czech Republic.