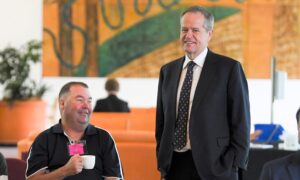 The National Disability Insurance Program is set to cost $500 million more this fiscal year compared to estimates made just four months ago.
The Senate estimates that hearings will cost the scheme $500 million (US$345 million) more in fiscal year 2022/23 than the government projected in its October budget. bottom.
The budget at the time said the scheme would cost $35.5 billion in the fiscal year.
Projections show that the plan will cost $44.1 billion by 2024/25 and over $50 billion the next year, surpassing Medicare's annual cost.
The scheme's acting actuary, David Gifford, estimates that the scheme cost $300 million more than expected from July to December 2022.
In January 2023 alone, costs exceeded projections by $200 million.
The payout forecast for January was set at $2.7 billion, but the actual payout was $2.94 billion.
But Gifford said at the hearing that January's numbers should not be viewed as part of a growth trend.
"There is some variation in monthly payments … processing is a little different," he said.
"We haven't finalized our projections for this year yet. We plan to do that over the next month or two to prepare for the budget.
NDIS Minister Bill Shorten announced a plan review last year, with the program set to cost an additional $8.8 billion over the next four years.
At the time, Shorten said the review would investigate waste within the scheme and report its findings in October.
The Senate committee also said the case being investigated by the task force to crack down on fraud within the scheme was worth about $250 million.
But One Nation Senator Malcolm Roberts said the money wouldn't be much, even if everything was recovered.
"Given the $52 billion[future cost of the plan]and the deep concern over fraud, I wonder if they are trying to bail out the Titanic with a coffee mug," he said.