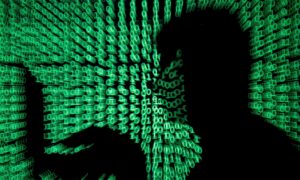 Two in five UK businesses suffered from cyberattacks in the last 12 months, new figures from the Department for Digital, Culture, Media, and Sport (DCMS) show.
According to the Cyber Security Breaches Survey 2021 report, published on Wednesday, 39 percent of British firms and 26 percent of UK charities reported having cybersecurity breaches or attacks in the past year.
A single cyber attack can cost businesses £8,500 on average.

Keep your organisation #SafeOnline — read @NCSC's security guidance for businesses, including tips on:

Secure home-working 👉 https://t.co/HGRKIqubWi

Video conferencing 👉 https://t.co/qlZYjl3p3i pic.twitter.com/BJz0RJV3Ov

— DCMS (@DCMS) March 24, 2021
The report also shows that cyber risks have been heightened during the CCP (Chinese Communist Party) virus pandemic, which has forced organisations to divert resources to facilitating home working for staff.
Phishing emails were by far the most common form of cyberattack, said the report. These were followed by online impersonation, viruses, and other malware including ransomware.
In cases where a breach resulted in a loss of data or assets, the average cost of a cyberattack on a business is £8,460 ($11,604). This figure rises to £13,400 ($18,379) for medium and large businesses.
"The pandemic has taken an unavoidable toll on British businesses but we cannot let it disrupt our high cybersecurity standards," said Digital Infrastructure Minister Matt Warman.
"With more people working remotely it is vital firms have the right protections in place, and I urge all organisations to follow the National Cyber Security Centre's expert guidance so we can build back better and drive a new era of digital growth."
The National Cyber Security Centre (NCSC), a part of the UK's GCHQ intelligence agency that was set up in 2017, is charged with protecting the nation from cyber-attacks.
In November 2020, Prime Minister Boris Johnson announced the formation of the National Cyber Force (NCF), which will work alongside the NCSC and conduct cyber operations to disrupt hostile state activities, counter-terror plots, and support military operations.
In its Integrated Review of defence and security policy, published last week, the government set the goal of cementing the UK's position as "a responsible and democratic cyber power" and announced a commitment to publish a new National Cyber Strategy later this year.
The UK has been a world leader in offensive cyber operations. In 2016, the Ministry of Defence confirmed the UK was conducting cyber operations against the ISIS terrorist group. In 2018, the GCHQ revealed how it had degraded ISIS propaganda networks through cyber operations.
The UK is facing cyber threats from not just terrorists and criminals, but also hostile foreign states including Russia and China.
In July this year, Foreign Secretary Raab said he was "deeply concerned" over evidence that "China is engaged in malicious cyberattacks against commercial, medical, and academic institutions, including those working to respond to the coronavirus pandemic."