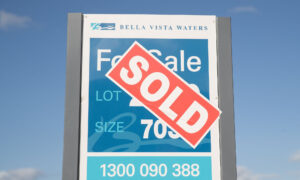 Mortgage commitments hit new highs in April, but financial regulators are happy that they haven't helped relax lending standards.
New figure New mortgages, driven by owner and occupant loans, increased 3.7% to a record $ 31 billion (US $ 23.8 billion), according to the Australian Bureau of Statistics.
Catherine Keenan, Head of Finance and Assets at ABS, said the value of new mortgages for owners and occupants reached a record $ 23 billion (US $ 17.6 billion). In comparison, investor lending has returned to its highest level since mid-2017, at $ 8.1 billion.
Keenan also said that the number of new mortgage loans for owners and occupants has declined for the third straight month. However, it has maintained the highest level since July 2009.
New South Wales (8.6%) and Victoria (8.4%) accounted for most of the increase in owners and occupants, while Western Australia decreased by 7.9%.
Representatives from the Reserve Bank of Australia (RBA) and the Australian Prudential Regulation Authority (APRA), an industry regulator, mentioned the recent return of investors to the market at a Senate hearing on Wednesday.
APRA Chairman Wayne Byers Told the senator At the last time regulators intervened to control the market in 2017, 40% of all newly approved loans were interest-only loans.
He said regulators had no intention of intervening at this time, as lending standards were not delayed in a significant way to justify their involvement.
RBA Deputy Governor Michel Block said that one of the hallmarks of the current lending environment is that it is primarily the purchaser of homeowners, especially the first homes, rather than investors.
"Especially the first homebuyers tend to have a high loan ratio." Brock saidIs one of the indicators that banks often use to calculate loan risk, and the higher the ratio, the greater the risk.
"[For first-home buyers] That doesn't mean they are at higher risk. That means they are in the early stages of their careers, young and not building a lot of wealth, "she said.
The RBA has supported their statement that the discount rate will not be raised from the current 0.1% to "at least 2024" or until sustainable inflation reaches 2-3%.