New South Wales (NSW) first electoral debate pits prime minister against opposition leader Over the major problems facing Australia's most populous state,
NSW voters will vote on March 25 to decide whether to retain the center-right coalition that has ruled the state for 12 years or hand over power to the center-left Labor Party.
On the morning of 9 February, Prime Minister Dominique Perrotet and Labor Party leader Chris Minnes opened a debate at 2GB Radio's studios in Sydney to discuss issues such as health care, infrastructure, nurses' wages, cost of living and education. .
After a rather polite opening, the opposition leader jumped right in, asking the prime minister about the crisis in New South Wales' health system, saying 100,000 people were on a waiting list for elective surgery.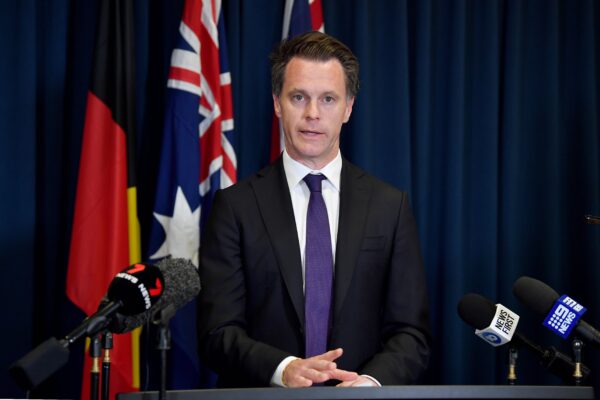 Mr Perrottet replied that NSW has "the strongest healthcare system in the country".
While acknowledging challenges, he said his party had invested $30 billion in the health care system.
"Why aren't we seeing a surge problem in New South Wales like we're seeing in other labor states across the country?" he asked.
Wage caps in the public sector Issues
Another controversial issue was the wages of nurses and teachers.
Minns calls for the removal of public sector wage caps. The Labor Party is supported by several unions involved in the public sector.
"'We are in a situation where 70% of NSW health workers are looking to move to other jurisdictions to work in health services rather than here in NSW,' he said.
"The prime minister's decision to freeze wages months before inflation exploded devastated some of NSW's frontline public services, so nurses and paramedics were quick to stop when they needed to stay. I think I left for
In June 2022, Prime Minister Dominique Perrotet announced that the current wage cap will be raised from 2.5% to 3%, with a maximum of 3.5% by 2023-24.
The prime minister defended the current measures, saying they would "definitely invest in the future" and claimed it would be "twice as much as Victoria".
"If you can't control spending growth within your budget, you can't invest in frontline services.
"This is a fair and rational approach," he added, saying it allowed the government to invest in infrastructure, metro lines, highways and frontline services.
"Removing that cap under Labor would cost New South Wales taxpayers billions of dollars and prevent us from building what matters to our people."
"When there were no caps, spending got out of control," he argued. "It means you can't invest in the things that matter."
Mings was questioned on how to deliver the promised public wage hikes while ruling out privatization, increasing government debt or raising taxes.
Mings replied, "We promise that any wage increases we give to frontline workers in New South Wales will be paid for either through budget savings or increased productivity."
Fiery Exchange for infrastructure payments
The debate escalated when the two put pressure on each other over how they could finance Sydney's multi-billion dollar infrastructure project.
Minns criticized the coalition's privatization of public property as a means of funding infrastructure building, calling it a "sale."
Instead, Mings has offered to cover the cost of large projects and pay public sector workers about $1.5 billion ($1.04 billion) in annual dividends from state-owned enterprises.
"One thing we have to understand is that the dividends governments receive from state-owned enterprises will fund future infrastructure," said Minns.
"And the big question in your plan is, after privatizing everything that the NSW government owns, how are you going to build the infrastructure afterwards?"
Minns accused the prime minister of not allowing the M4 motorway to "get six times the benefit".
"At the end of the day, you can't be in a situation where you're flogging your family's jewelry and home to pay off your credit card."
However, the Prime Minister objected. "There is absolutely no corporate dividend to be paid over the long term for large infrastructure projects, $17 billion infrastructure projects."
"My point is to always have a balanced approach to debt management and recycling of state-owned assets and a wage cap to ensure the ability to build infrastructure."
"And five years as the state's former treasurer, I can't give everyone everything. If we don't make tough decisions, the state will have to stall," he said.
The host also told Mings and Perrott about the government spending heavily on relief measures for families, including the Coalition's $500 million to fund families to reduce electricity bills. I asked him what he thought.
"I wonder if 20 different rebates and relief measures should be available to relatively wealthy families like mine," said host Ben Fordham. Need that help? "
Perrotet claimed he "wanted to help our whole family", but Minns said "the budget is out of control and I don't think we can help".
"The Prime Minister has announced that he does not believe he is reasonable or responsible in this situation due to the large disbursements from Treasurer Matt Keane," Mins said.
The debate ended with a handshake between the two candidates.