[ad_1]

New Zealand Prime Minister Jacinda Ardern criticized China's human rights abuses in a speech at the NATO summit in Madrid, calling for the disarmament of nuclear weapons.
"This crossroads facing the world should be the basis for stopping the production of weapons that create mutual assured destruction, as alternatives are immeasurable," she said.
Ardern said New Zealand has "the scars of decades of nuclear testing" and therefore remains "proudly non-nuclear."
Discussions on Russia's invasion of Ukraine were central to the event during the approval of NATO's first strategic conceptual document in 10 years.
New Zealand is not a member of the NATO military alliance, but has been a partner for 10 years.
The Prime Minister emphasized that New Zealand was invited but "not here to expand the military alliance."
"Aotearoa New Zealand has a fiercely independent foreign policy," she said. "We are also one of the oldest and most stable liberal democracy."
She added that the New Zealand Government is calling for foreign policy intervention in response to the weakening of humanity.
"And on that basis, we are clear. The war in Ukraine is wrong," Ardern said.
Ardern condemned Russia's invasion, but urged NATO members not to allow the heritage of war to become an "arms race" or a more polarized and dangerous world.
"Our solidarity with Ukraine must be in line with international organizations, multilateral forums, and an equal commitment to strengthen disarmament," she said.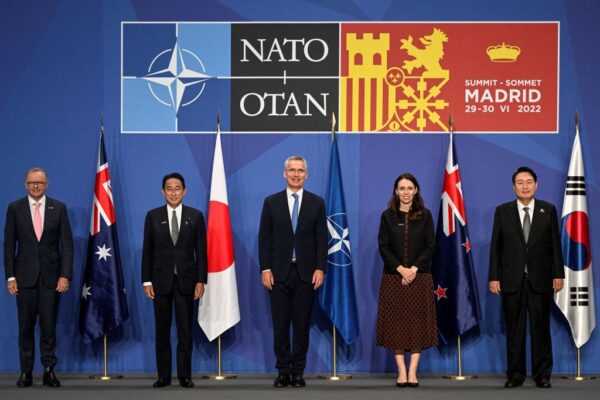 China recognizes as a threat
In NATO's strategic concept, China was for the first time officially branded as a security threat and criticized for using economic leverage to "build strategic dependencies and strengthen their influence." I did.
"China (People's Republic of China) has a wide range of political, economic, and military capabilities to enhance its global footprint and project power, while remaining uncertain about its strategy, intent, and military buildup. We have adopted a tool like that, "the document states.
Ardern then called on China to become more "aggressive" and willing to challenge international rules and norms.
"Here we must respond to the actions we see. We adhere to a rule-based order, call for diplomatic involvement, and call for opposition to human rights abuses anytime, anywhere. I have to raise it, "she said.
NATO's view of the growing threat of the Chinese Communist Party was evident in the first invitation of Asia-Pacific partners Australia, New Zealand, Japan and South Korea to attend the summit.
[ad_2]