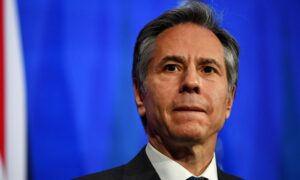 Washington — Secretary of State Antony Blinken said on Sunday that the United States still sees whether Iran will move to comply with its nuclear promise to lift sanctions, despite ongoing talks showing progress. Said not.
The Iranian president said last week that the United States was ready to lift trade sanctions, but senior Iranian officials opposed him and European diplomats said there were still difficult problems.
Indirect talks are underway in Vienna while the Biden administration is seeking a way forward with Iran, including how Tehran will resume compliance with the 2105 nuclear agreement with world powers.
"I think Iran knows what it needs to do to regain compliance on the nuclear side. What we haven't seen yet is that Iran is ready to do what it should do. It's a test and there's no answer yet, "Blinken told ABC News's program "with George Stephanopoulos this week."
Blinken said he had a fifth meeting in the coming days to clarify what both sides needed to do, and said he had "actually made progress" on CNN's "Fareed Zakaria GPS" program.
The United States abandoned its international agreement in 2018 under former President Donald Trump, who imposed sanctions on Iran's oil, banking and shipping sectors.
President Joe Biden, who took over Trump in January, believes Iran is in serious negotiations, but adheres to the deal that was consolidated when Biden was Vice President under former President Barack Obama. He said it was unclear what measures Tehran would actually take to do so.
If both sides were able to return to the original deal, Blinken told CNN on Sunday: Iran's support for terrorism … Unstable support for various agents throughout the Middle East. "
But he says of ABC: "The first thing we should do is put the nuclear issue back in the box."
Susan Heavy