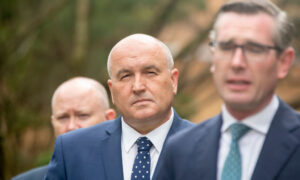 New South Wales (NSW) Transport Minister David Elliott plans to step down from state politics next year, choosing to withdraw from the pre-selection race after the seat was abolished.
In the March 2023 elections the Boukham Hills seat of the Minister for Transport, Veterans Affairs and Western Sydney will be abolished and renamed Kerryville.
Elliott, who announced his retirement on his LinkedIn profile on Saturday night, hoped to instead take a safe liberal seat in Castle Hill.
This transition would have required support from within the Liberal Party, which is nominating each voter's preferred candidate in the upcoming elections.
Elliott said Sunday: "I have made several inquiries over the past few days and it was clear that Castle Hill had no support for me.
He explained that modern politics is transactional, and said he could not "spit out dummies" for inter-factional deals within the party.
"I wasn't drafted into this game, so I accept the situation," he said.
Prime Minister Dominic Perrotet spoke with Mr Elliott on Saturday night.
"Ultimately, I think David should stay. He was a very powerful minister in the government," Perrottet said.
But he also said it would be "a healthy thing" to have new blood pouring into Macquarie Street.
"If you look at parliament 10 or 20 years ago, people stayed there until they were 60, 70, 80," the prime minister said.
"I don't think it's in the best interest of a strong and robust democracy."
Castle Hill, the Liberal Party's safe seat in northwest Sydney, is held by Ray Williams.
Williams is vying for the newly created seat, Kellyville, which occupies the majority of Elliott's Boucham Hills seats.
Elliott does not commit to campaigning for the Liberal Party nominee at Castle Hill.
"I'm not going to be a hypocrite and campaign for people I don't think are fit for public office," Elliot said.
Mr Elliott joins a long list of NSW coalition members, including Infrastructure Minister Rob Stokes, Customer Services Minister Victor Dominero and Corrections Minister Jeff Lee.
The 52-year-old, who has served as Minister for Police, Emergency Services, Counter-Terrorism and Correctional Portfolio, has been in the midst of controversy since he joined the NSW Legislature in 2011.
He told a P-plate driver that he "worked for the police" during an alleged road rage incident in 2019, defended a strip raid for minors, and killed two banned guns. He was photographed firing a gun and publicly disparaged for vacationing abroad during the black summer. Wildfire among emergency services ministers.
Elliott has recently been embroiled in a protracted dispute with the New South Wales rail, tram and bus union over a new business agreement.
Reflecting on his 12 years in the New South Wales Legislature, Elliott said he was "controversial but active".
"I think I took every opportunity. I think I let people know where I stand," Elliot said.
"I made some mistakes…I want to look back on my contributing political career."
Although he planned to return to the private sector, he did not rule out a federal commitment.
The coalition will contest a historic fourth term in March elections.