North Korea has warned of an "unprecedented forceful counterattack" if the United States and South Korea go ahead with planned joint exercises, according to the official North Korean mouthpiece.
A North Korean foreign ministry spokesman has accused the United States and South Korea of ​​seeking a "long-term military advantage" on the Korean peninsula. report.
"If the United States and South Korea carry out their already announced plans for military exercises that North Korea, with legitimate concern and reason, regards as preparation for a war of aggression, they will face an unprecedented, sustained and forceful counterattack. will face."
DPRK is an acronym for the Democratic People's Republic of Korea, the official name of North Korea.
A spokesperson said North Korea was abstaining from "special military actions" but that the US-South Korean military demonstrations "violate North Korea's security interests."
Citing the expansion of U.S.-South Korea joint exercises and the U.S. pledge to deploy more military assets to defend South Korea, the spokesman said the Korean peninsula was in a "significant vortex of escalating tensions." will rush into," he warned.
The official said, "If the US option is to show strength and fight everything with force, so is North Korea's option."
South Korea and the United States will hold the annual Freedom Shield joint exercise next month to strengthen the joint capabilities of their militaries to deter North Korea's nuclear threat, KBS World report.
Ministry of Defense of South Korea announced On Thursday, the military also announced it would hold joint tabletop exercises with US forces at the Pentagon next week.
South Korea calls North Korea an 'enemy'
South Korea's Ministry of National Defense released a biennial policy document calling North Korea "our enemy" for the first time that day after six years of futile diplomatic efforts to denuclearize the Korean Peninsula.
"Just as North Korea defined us as an unquestioned enemy at the plenary session of the ruling party Central Committee in December 2022 and continues to pose a military threat without abandoning its nuclear program, the North Korean regime and the military — the perpetrators of that threat — are our enemies," the document reads.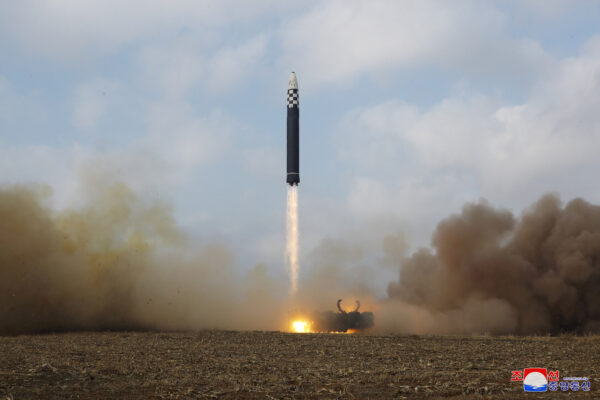 South Korea's use of the term "enemy" to describe North Korea has changed over the past few decades. It first called North Korea an enemy in 1995 after North Korea threatened to turn South Korea into a "sea of ​​fire."
In 2004, South Korea described North Korea as a "direct military threat". However, the North Korean regime finally revived the term enemy in 2010 after 50 South Koreans died in an attack allegedly orchestrated by the North Korean government.
Later, in 2018 and 2020, the liberal administration of former President Moon Jae-in, which pursued reconciliation between the two Koreas, dropped the hostile term.
Recent changes to defense documents reflect President Yoon Suk-yeol's tough stance on North Korea. The paper also referred to North Korean leader Kim Jong-un by his name, in contrast to President Moon's practice of referring to him as chairman of the State Affairs Commission.
In the paper, South Korea said North Korea had 70 kilograms of plutonium, up from an estimated 50 kilograms in a previous report, and a "substantial" amount of highly enriched uranium. I'm guessing. Both are important materials used in the manufacture of nuclear weapons.
"Nuke For Nuke" Showdown
North Korea launched more than 70 missiles last year, including a range of potentially nuclear weapons, targeting South Korea and the U.S. mainland, prompting increased joint military training to counter the North Korean threat. urged both countries to do so.
Pyongyang has denounced the exercises as "rehearsals for aggression" and vowed to retaliate against any military action on the principle of "nuclear for nuclear, total confrontation for total confrontation".
The United States has called for dialogue to resume, but North Korea has ignored the call, citing the hostile policies of the United States and its allies.
Yoon has previously offered economic benefits to North Korea in exchange for denuclearization measures, but the offer was rejected. Kim said there will be no denuclearization talks, talks or "bargaining chips" in the process.