Skien, Norway — Right-wing extremist Anders Behring Breivik, who killed 77 people in the worst peacetime massacre in Norway in 2011 with bombs and guns, appeared in court on Tuesday for parole.
The Telemark District Court must decide whether Brevik is still very dangerous and society needs additional protection against him. Ten years ago, a Norwegian genocide was sentenced to 21 years in prison for terrorist acts in the government districts of Utoya and Oslo. Can be expanded indefinitely.
Under Norwegian law, 42-year-old Brevik is eligible for parole after serving the first 10 years of his term.
In a stubble and two-piece suit, Braivik fixed the white supremacist message to a blazer and bag, stepped into court and put up a sign with the same message.
When he entered court, he performed Nazi salutes, demonstrating his position as a leader in the Norwegian neo-Nazi movement, and using parole hearings as an opportunity to express the views of white supremacists rather than seriously attempting early release. Suggested to do.
Prosecutor Fulda Karlsdottil has begun hearings, stating that Breivik's imprisonment, which legally changed his name to Fyotruf Hansen in 2017, does not affect the issue of parole.
They are "fully subordinate. The main topic here is the dangers associated with release," she told the court.
The families of the victims and survivors were afraid that Brevic would provide a platform to inspire like-minded ideologies and to honor his extreme views during the hearing.
"The only thing I'm afraid of is whether he has the opportunity to speak freely and convey his extreme views to like-minded people," said Lisbeth Christine, head of the Family and Survivor Support Group. Rheinland said before the hearing.
Inspired by a terrorist attack in New Zealand in 2019, she pointed out the case of Norwegian archer Philip Manshaus, who murdered his sister-in-law and attempted to attack a mosque.
After months of careful preparation, Brevik fired a car bomb outside Oslo's government headquarters, killing eight people and injuring dozens on July 22, 2011. Then he drove to Utoya, where he fired at the annual summer camp of the Youth Division of the Left Labor Party. Before Brevik surrendered to police, 69 people were killed there, most of them teenagers.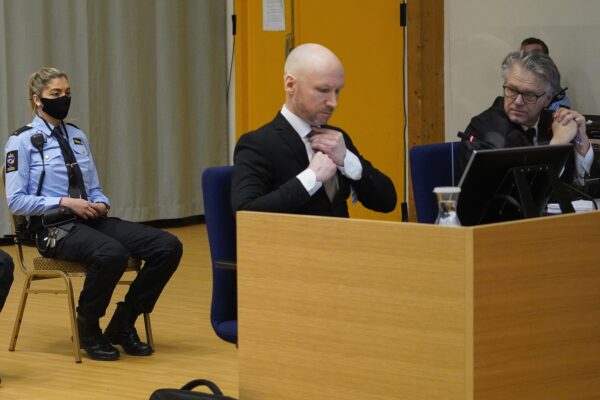 A court convicted him in 2012 rejected the prosecution's view that he was mentally ill and found him criminally sane. Brevik did not appeal his decision.
During the 2012 trial, he went to court every day, flashing the salute of his closed fist and telling his sad parents that he wanted to kill more. He was about to start the Fascist Party in prison and contacted right-wing militants in Europe and the United States by mail. Prison officials confiscated many of these letters for fear that Brevik would urge others to carry out violent attacks.
He has shown no remorse, and experts say the hearing is unlikely to bring him early release. It is held at the Skien Prison Gymnasium, 100 km (60 miles) southwest of Oslo. Breivik is held here. He has always been isolated from other prisoners.
The court will sit until Thursday and the ruling is scheduled for later this month.
Prior to the hearing, psychiatrist Randy Rosenqvist, who has been following Breivik since his imprisonment in 2012, has "detected a major change in Breivik's function since the criminal trial boasting about the scale of the slaughter and 2016. I couldn't do it. " A human rights case when he raised his hand in a Nazi salute.
"As a rule, those seeking parole need to show remorse and understand why they can't repeat such actions," she said.
By David Keyton and Jan M. Olsen