[ad_1]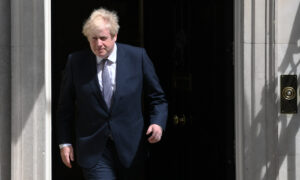 Prime Minister Boris Johnson said Wednesday that current CCP (Chinese Communist Party) virus data would not affect the scheduled resumption on June 21, but did not rule out the possibility of delays in the plan.
June 21st is the final day of unlocking the government's four-stage roadmap. All legal restrictions will be lifted.
Health Minister Matt Hancock said the final decision will be made by June 14, as many are concerned that the emergence of Indian variants will take the plan off course.
"We can't see anything from the data at this point, which means we can't move on to Step 4, the start of June 21," Johnson told reporters. .. ONS [Office for National Statistics] Data infection rates are increasing. "
Prime Minister Johnson said the Cabinet needs to clarify how much protection the UK vaccination program provides.
"The data are still ambiguous," the prime minister told reporters.
"We have long sessions every day, examining all the data and all the different models," he said. I need to give a little more. "
Sir John Bell, a professor of medicine at Oxford University, believes the government is taking a "wise approach," but said the debate also needed to "balance a bit."
"I think we need to keep an eye out for hospitalizations, serious illnesses and deaths. This is really what we are trying to manage," Bell said. BBC Radio 4 "Today" show.
"Every time a new variant is found, running down the rabbit's pit will lead to long-term huddling, so balance the discussion a bit and keep an eye out for the serious illnesses we're trying. You need to keep it. Prevent it. "
ONS data released on Friday In the UK and Scotland, "incompatible with British variants" suggests an increasing number of cases of "likely compatible" variants with Indian variants.
In the same report, ONS has a lower percentage of people in Wales who tested positive for COVID-19, a disease caused by the CCP virus, commonly known as the new coronavirus, in the two weeks leading up to May 22. He said he remained (1 in 3,850). "Potential signs of increase" in Scotland (1 in 630), United Kingdom (1 in 1,120), and "Early signs of potential increase" in Northern Ireland (1 in 820) Has increased.
However, ONS Data published on Wednesday Of the deaths recorded in the week ending May 21 in England and Wales, only 1.1% mentioned "coronavirus disease (COVID-19)," the lowest level in eight months.
There were no deaths within 28 days of the CCP virus-positive test reported on Tuesday, the first since March 7, 2020. Twelve deaths were reported on Wednesday.
[ad_2]