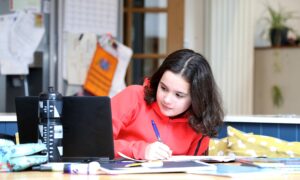 According to a BBC survey, the number of children enrolled in home education in the UK increased by 75% in the first eight months of the year.
Broadcasters received freedom of information responses from 205 UK launches and 153 out of a single municipality, and across Northern Ireland, and submitted the results as a whole.
The number in North West England was found to be 92% higher than the average for the last two years.
The BBC found that in the blockade, more and more families were switching their children to full-time home education, removing them from school registries and notifying local councils.
In the UK, more than 40,000 students officially graduated between September 2020 and April 2021 when the school was fully reopened, with an average of 23,000 over the last two years.
Some parents and council told the BBC that the increase was in "COVID anxiety."
In December, Ofsted reported an increase in the number of homeschooled children during the current school year.
Almost three-fifths of schools told inspectors that since the beginning of the fall semester, there has been at least one student whose parents have taken them out of school for home education.
School leaders said some parents only wanted to have a temporary home education and that the children would return "after the pandemic."
Between September 2020 and April 2021, BBC figures showed a 75.6% increase in home education compared to the average for the same semester in the last two grades.
Based on the council that responded, there was an increase of at least 50% in all UK countries and territories. For some, the rate was much higher.
The 153 council figures do not consider children who were deregistered after the end of April 2021 or who subsequently returned to the classroom.
A spokesperson for the Ministry of Education said: But more than ever, it is imperative that home education decisions be made in the best interests of the child at the forefront of the parent's mind.
"We continue to work on a registration system for out-of-school children, which helps local governments take on existing obligations and protect all children within range.
"Details of the register can be found in the Government's response to the consultation and will be published in the future."
Eleanor Basby