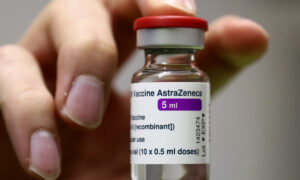 Officials in Italy claimed to have found approximately 29 million AstraZeneca COVID-19 vaccine doses at a facility, while the company appeared to confirm the finding and said they were destined for the European Union and for donations to other countries.
Italian security forces inspected a Catalent factory near Rome at the behest of the European Commission, discovering the millions of doses over the past weekend, Italian paper La Stampa reported. Italy's Prime Minister Mario Draghi confirmed the report, according to Reuters, said that some of the doses were seized while some were sent to Belgium.
French officials also confirmed the finding of the CCP virus vaccines.
"A stock of almost 30 million doses has been identified near Rome during an inspection we put in place. It has now been seized," French government spokesman Gabriel Attal said this week, according to Reuters. "The EU won't be the fall guy of vaccinations."
In a statement, AstraZeneca said that 16 million doses that were found were for the European Union and 13 million doses were for countries who signed up for the COVAX program.
"There are 13m doses of vaccine waiting for quality control release to be dispatched to COVAX as part of our commitment to supply millions of doses to low income countries, the vaccine was made outside the EU and brought to the Agnani plant to be filled into vials," the pharmaceutical giant said. "The EU fully supports supplying low and middle income countries through the COVAX facility."
AstraZeneca further said it is inaccurate to describe the finding as "a stockpile," adding that the "process of manufacturing vaccines is very complex and time-consuming. In particular, vaccine doses must wait for quality control clearance after the filling of vials is completed."
The company has been forced to deal with controversy this month after Germany, Italy, Sweden, France, Denmark, Spain, and other EU countries suspended usage of the firm's vaccines after reports of recipients developing blood clots or even deaths.
Last week, the EU's European Medicines Agency said that the AstraZeneca vaccine is effective and noted that its benefits outweigh its potential side-effects. The vaccine has not been approved by the U.S. Food and Drug Administration for usage, but the firm has said it wants to roll out the shot in the United States.
"A causal link with the vaccine is not proven, but is possible and deserves further analysis," the agency said of the vaccine and blood clots.
The Epoch Times has contacted AstraZeneca for comment.