A shooting occurred at a high school in Toronto's East End Monday afternoon, and police rushed to the scene.
The shooting occurred outside the Woburn Collegiate Institute in Scarborough. The injured teenage man was taken by ambulance to a trauma center where he sustained life-threatening injuries. toronto police via twitter.
At 3:22 pm local time, police received a report of a shooting near the intersection of Ellesmere Road and Markham Road. "One man has been pronounced dead in hospital," Toronto Police said on Twitter.
Police said the suspect fled the scene.
Toronto mother Nazia Khan said her 15-year-old daughter in 10th grade emailed her just before 5 p.m. We are in lockdown…we are really quiet. "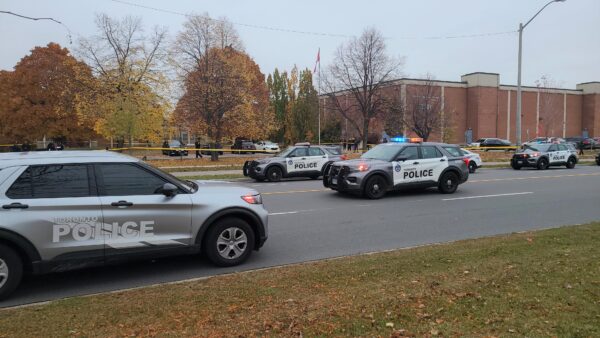 Khan's son, 14, also attends Woburn Collegiate Institute, but returned home sick on Monday.
When Khan received her daughter's dreaded message, she ran upstairs to fetch her husband, and they rushed to school.
she said she came to find a school be surrounded by police and yellow crime scene tapes, parents were barred from entering the school. Khan told The Epoch Times that she thought it was a joke at first: "Her daughter panicked and texted me, 'Mom, help me.'"
Woburn and nearby Woburn Junior Public School have been shut down, according to the Toronto District School Board. At 4:30 p.m., the parent was informed by her Toronto Police Twitter account that the student will be the parent. end "With the help of the police" school on the east side.
"My daughter is still in shock," Khan said. "I panicked when I saw too many police cars."
Toronto police are asking anyone with evidence to appear.
"Since this is currently a murder investigation, the police may not have witnesses, anyone who may have video of the shooting, or who was in the area at the time and had drive recorder footage, to identify the shooting or suspect. We are trying to talk to a driver who may have been caught and fled the area to speak to police," Toronto Police said in a statement to the Epoch Times.
Police are looking for a black man in a black jacket and "COVID mask" who was heading west.