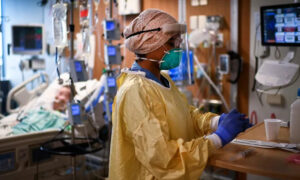 Toronto-Ontario hospitals are instructed to reduce selective surgery and non-urgent procedures to treat more and more COVID-19 patients.
Ontario Health's president and CEO sent a note Thursday night instructing the hospital to take steps to protect critical care and human resources from Monday.
Hospitals in northern Ontario are exempt, but Matthew Anderson says he needs to be prepared for a rapid decline in the near future.
A memo from the agency that oversees the state health system also asks hospitals to identify staff who may be relocated elsewhere if necessary.
Anderson said the increasing number of cases of COVID-19 requires action given the "increased critical care capacity and extreme pressure".
He states that Ontario Health will continue to monitor the situation in order to restore the surgical capacity of the postponed service as soon as possible.
Ontario today reports 4,227 new cases of COVID-19 and 18 additional deaths from the virus.
Health Minister Christine Elliott said there were 1,218 new cases in Toronto, 762 in the Peel area and 532 in the York area.
She also said there were 247 new cases in the Durham area and 246 new cases in Ottawa.
Over 61,410 tests have been completed since the last report.
1,492 people are hospitalized in Ontario for COVID-19, 552 in the intensive care unit and 344 in the ventilator.
Ontario states that 105,382 COVID-19 vaccines have been administered in the state since Thursday's report.
More than 100,000 vaccines have been distributed in the state for the third consecutive day.
To date, Ontario has received a total of 2,940,166 vaccinations.
Meanwhile, Ontario Prime Minister Doug Ford received his first dose of the Oxford-AstraZeneca COVID-19 vaccine at a pharmacy in Toronto on Friday morning.
He said he wanted to take a shot in front of the media to encourage people to be vaccinated and fight the hesitation of the vaccine.
The prime minister has set a target of first dose next month for 40% of Ontarians, or 5 million people.