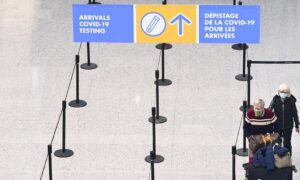 Canada's COVID-19 vaccination pace is optimistic, so two of Canada's most populous states are planning to reopen, but Manitoba's premiere is experiencing a surge in infections. That warned that it was related to people not being shot.
"COVID is evil. It takes your breath. It takes your power. It takes your freedom. It can take your life," emotional Brian Parister said Thursday. Said at a press conference.
"Getting a COVID has real consequences and I want to prevent those consequences from happening to you."
The delayed third wave puts immense pressure on Manitoba's medical care, where a record number of people are receiving intensive care. This week, three COVID-19 patients were transferred to northwestern Ontario, freeing bed space.
Health officials said the vast majority of people over the age of 12 were not vaccinated, even though anyone over the age of 12 could fire in the state, according to Parister.
He said his progressive conservative government would announce incentives for people to be vaccinated and would bring stricter public health measures ahead of the long May weekend.
Canada was expected to outperform the United States on Thursday in terms of the proportion of the single-vaccinated population.
Forty-nine percent of all Canadians (about 18 million) are expected to take their first dose by the end of the day, with 48% slightly above the United States.
Many states, coupled with soaring vaccination rates and declining infections, are urging many states to outline plans for how to reopen this summer to give people more freedom. I will.
Prime Minister Doug Ford was to announce plans for Ontario to reopen the state later Thursday.
The new COVID-19 modeling also shows that vaccination efforts and a stay-at-home order have put the state in a much better place than it was a few weeks ago.
There were 2,400 new cases on Thursday, with an additional 27 deaths associated with the virus.
Dr. Adalstein Brown, a member of the Ontario COVID-19 Science Advisory Table, said pressure on hospitals is still increasing. He said any resumption plan would pose a challenge, and people must be cautious.
"These are all difficult trade-offs, and none are risk-free."
Quebec reported 662 new cases and eight deaths the day after it lifted the COVID-19 curfew later this month and offered plans to remove Maskmandate by late August.
The state will gradually allow bars and restaurants to reopen from several patios on May 28th.
Authorities also plan to announce plans to vaccinate young people between the ages of 12 and 17.
On the National Front, federal public security minister Bill Blair said restrictions on non-essential international travel, including the United States, have been extended until at least June 21st.
Kelly Geraldine Malone