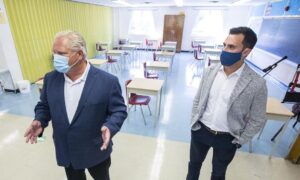 The state announced on Monday that schools in Toronto—Ontario will move to online learning indefinitely when classes resume the week after spring break.
Prime Minister Doug Ford said COVID-19 was too widespread in the community to take the risk of students gathering after a break.
He claimed the school was safe, but said the state "must do everything possible" to reduce infections during the "significant" period of the next few weeks.
"We can't be too cautious right now. We need to be proactive," Ford said on Monday. "When it comes to keeping children safe, I never take unnecessary risks."
He said the government would decide when to resume face-to-face lessons based on COVID-19 data.
Education Minister Stephen Lecce said the board will be instructed to support face-to-face special education guidance for students who cannot study remotely.
He said childcare for non-school-age children and children of front-line workers would continue during the closure.
Lecce said closing face-to-face learning is a "sadly necessary precaution" to combat the third wave of infectious diseases that the state is burdening intensive care units. He said the purpose of the closure was to address the expansion of the community.
"Know that you promise to return to learning directly as soon as you're safe," he said.
The announcement was made days after the state-wide closure came into effect in light of the surge in infectious diseases and hospitalizations.
Spring break began on Monday after the state postponed it to March to discourage travel during the pandemic.
The government had previously claimed that the school would reopen next week, but the union called for the school to be closed due to lack of stronger security measures.
The union also requires all teachers to be vaccinated before direct learning resumes. The state said special education staff and educators at the Toronto and Peel virus hotspots will be vaccinated this week.
Schools in the Toronto, Peel, Wellington-Duffelin-Guelph Health Unit moved classes online last week in light of the increasing number of COVID-19 cases.
By Holly McKenzie-Sutter