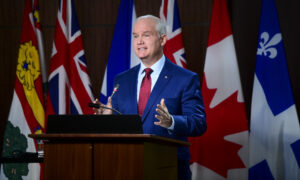 Conservative leader Erin O'Toole has criticized Justin Trudeau's decision to partner with China on the production of the COVID-19 vaccine and called for a public investigation into the Liberal government's pandemic response.
At a press conference on Tuesday, Mr Trudeau said he "dropped the ball completely" when Trudeau asked China to make the COVID-19 vaccine.
January Report by iPolitics A few days after the federal government announced a contract with a Chinese vaccine company in 2020, Beijing was shown to have delayed clinical trials by months as it deliberately blocked the shipment of vaccine candidates to Canada. It was.
"It was the worst of a series of bad decisions," O'Toole said. "We are still scrambling to catch up."
As of April 6th, Canada 6.9 million doses, About 1.8% of the population is fully vaccinated. This puts Canada in 44th place in the world per capita immunization ranking, after Azerbaijan, Costa Rica and Serbia, according to O'Toole.
Opposition leaders called for a public inquiry to investigate all aspects of the Liberal government's response to the COVID-19 crisis.
"Once the pandemic is over, we need an answer. We need to know what worked and what didn't. We need complete transparency and accountability," says O'Toole.
Canadian Health Minister Patty Haidu responded to Conservative leaders' remarks at a press conference on Parliamentary Hill on Tuesday, and the Liberal government is "very open" to thoroughly investigate its response to the COVID-19 pandemic. Said that.
"We can't predict the nature of the survey, but we want all Canadians to participate," said Haidu. "We say we accept as deep an inquiry as necessary, including an inquiry that focuses on how our country can better prepare for future global health threats. "
O'Toole also called on the government to appoint a special monitor from the Directorate General of Audit to track pandemic responses in real time to ensure that lessons are learned in dealing with future emergencies. I did.
"Last month, Canada marked the National Foundation Day for those who lost the pandemic, but to truly respect their memories, learn from the mistakes they made and improve their resilience and readiness as a country. I have to promise to do it, "he said.