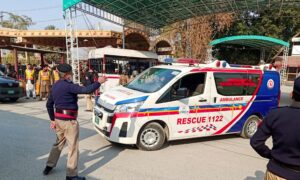 PESHAWAR, Pakistan—At least 34 people were killed Monday in a suicide bombing at a crowded mosque in Peshawar, Pakistan.
Hospital officials said at least 150 people were injured, many in critical condition.
Prime Minister Shebaz Sharif called the blast a suicide attack. There were at least 260 people in the mosque, police official Sikandar Khan added.
No one has been held responsible for the bombing that blew up the mosque during noon prayers and collapsed the wall above the worshipers. The building is located in a highly fortified complex that contains the State Police Headquarters and the Counter-Terrorism Department.
Defense Minister Khawaja Asif told GeoTV, "It turns out that the terrorists were in the front row."
Footage from government broadcaster PTV shows police and residents rushing to clear debris from the blast site and carrying the injured on their shoulders.
The attack was the worst in the city since last March, when a suicide bomber attacked a Shia Muslim mosque during Friday prayers, killing at least 58 people and injuring nearly 200 others.
Located on the edge of Pakistan's tribal districts that border Afghanistan, Peshwar is frequently targeted by terrorist groups, including the Pakistani Taliban.
Known as Tehreek-e-Taliban Pakistan (TTP), the group is affiliated with a Sunni and sectarian Islamist group that wants to overthrow the government and replace it with its own Islamic rule.
The TTP has stepped up its attacks since last year ending a so-called peace deal with the Pakistani government facilitated by the Taliban in Afghanistan.
The TTP has been conducting frequent attacks against police over the past few months. In December, Islamist terrorists occupied a counter-terrorism center in the northwest and took hostages to negotiate with government authorities.