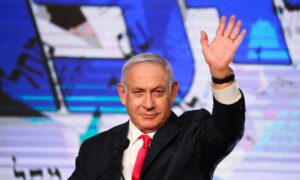 Israeli Prime Minister Benjamin Netanyahu said the Israeli Defense Forces (IDF) "Hamas" on Sunday as Hamas and related groups launched a number of rockets into Israel's civilian territories, urging them to respond to Israel. Is trying to reduce the ability of Israel to terrorize. " Numerous air strikes.
"Every country has to defend itself and has a natural right to self-defense," Netanyahu told CBS News.
"We do whatever it takes to restore order and tranquility, and for the security of deterrents. We diminish Hamas' terrorist capabilities and discourage him from doing this again. We are trying, "said the long-time prime minister, adding that he hopes the conflict will not last long.
On Saturday, IDF confirmed that it had carried out air strikes on a building used by Hamas in Gaza. The building was also used by Qatar's Al Jazeera and Associated Press news wire services. IDF wrote on Twitter that Hamas had "placed military assets" inside the building for information gathering and other purposes.
According to the IDF, Hamas also uses the tactic of "intentionally" finding "military assets in the heart of the citizens of the Gaza Strip."
Netanyahu said in an interview on Sunday that Hamas (designated as a terrorist group by the State Department in the 1990s) was using the same office to organize terrorist attacks on Israelis. He added that the building is a "fully legal target."
However, Associated Press CEO Gary Pruitt denied that the organization knew that Hamas and other terrorist groups were using office buildings.
"I'm shocked and scared by the Israeli army targeting and destroying buildings that house AP stations and other news agencies in Gaza," the IDF said. I knew the place for a long time and knew that the journalist was there. " .. I was warned that the building would be hit. "
AP confirmed that all AP employees and freelancers had been evacuated before the airstrike.
Al Jazeera, run by the Qatari government, also blamed the airstrikes. In the statement And asked for an investigation.
AP editor Matti Freidman wrote, especially in 2014, about how Hamas operates an international press to give the group positive coverage.
"In the round before the Battle of Gaza, Hamas learned that international coverage from the territory could be shaped to its needs, a lesson it would carry out in this summer's war." The editor wrote. "Most of the press work in Gaza is done by local correctors, translators and reporters. You wouldn't dare to cross Hamas, so the group rarely needs to threaten Westerners."