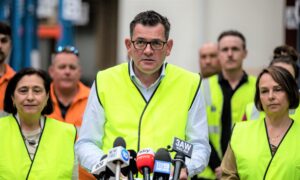 The move to pay landowners $200,000 per square kilometer for energy infrastructure imposed on their land has been called a slap in the face.
Residents living in the tracks of some projects in Victoria have long protested high-voltage power lines and pylons over 80 meters high, calling for the infrastructure to be placed underground instead.
These projects are part of a broader move to transition the state to renewable energy as the remaining coal-fired power plants are slated to shut down over the next 12 years.
Residents to be paid first will be those affected by VNI West, the Western Renewables that connect Ballarat in central Victoria with Kerang in the north, into NSW and onwards from Sydenham, a suburb of Melbourne, to near Stawell in western Victoria. Link Corridors are likely to connect.
A typical payment would be $8,000 per year for 25 years if the land has a power easement.
Emily Muir, chairman of the Moorabool Central Highlands Power Alliance, called the payments "indulgent" and said they were insufficient to compensate farmers.
"I feel like the government has slapped us in the face," Muir told AAP.
The approximately one-square-kilometer farm where she lives with her husband could be affected by the Western Renewable Energy Link.
Muir said she is not against renewable energy projects, but power lines and pylons on her property limit helicopter spraying, hinder the movement of certain machinery and inventory, They thought that it would affect agriculture because it would block visibility.
"I feel like the government is trying to cross the line into agreeing to a project that we have been opposing for two and a half years," she said.
The Gippsland residents affected by the Victoria Tasmania Marinus Link project and the near future offshore wind projects will also receive payments. This is equivalent to what is currently offered in NSW.
In 2022, protests against VNI West intensified, with hundreds of farmers driving tractors through Ballarat and rallies outside Melbourne's Parliament House.
The project is part of a move to ensure energy stability across the east coast by allowing electricity generated in Victoria and New South Wales to move between states.
"These new payments recognize the very important role that landowners play in hosting critical energy infrastructure that is a key part of Victoria's renewable energy revolution," said Victoria's Energy Resources Minister Lily D'Ambrosio said.
Creative Industries Minister Steve Dimopoulos echoed those comments at a news conference on Friday, telling reporters that the infrastructure is essential for future energy transmission and domestic markets.
The Victorian opposition supports compensation for landowners, but said more attention should be paid to disturbances and blockages affecting the grid.
"The real problem is providing an energy network that can support our transition system," said David Hodgett, energy and resources spokesman for the opposition party.
Earlier this week, Australian energy market operators warned that without urgent investment to replace coal-fired power plants, the grid's reliability over the next decade is questionable.