[ad_1]

Many people in China's Xinjiang Uighur Autonomous Region are unable to leave the country to visit their hometowns during the week-long "October 1st" holiday period. Meanwhile, protests against the indefinite lockdown have erupted.
Most of the Uyghur-majority Xinjiang Uighur Autonomous Region, located in northwestern China, has now been under lockdown due to COVID-19 for more than 50 days.
Guo, a Sichuan native who works in Urumqi, Xinjiang, told The Epoch Times on Sept. He said he was not allowed to go home to visit his family. " This year's holiday.
"No one knows when the lockdown will be lifted. We have to take PCR tests every day, are confined to our homes and are not allowed to leave our communities," he said. I was. "People are crazy. It's miserable."
Guo added that some communities were closed again after lockdowns were temporarily lifted.
stuck without food
He said it would be very difficult to return from Xinjiang due to severe restrictions on movement.
"It's too troublesome to go back to my hometown (Sichuan). Not only because I have to pay for quarantine. The point is that people there are afraid of people who have returned from Xinjiang. [where there are reported COVID-19 cases]It is also difficult to leave Xinjiang now. There are checkpoints in many places. "
Guo told the Epoch Times that despite the prospect of food shortages in Xinjiang, he ultimately decided not to return to his hometown to visit family this year.
"The Xinjiang government is very corrupt, and the community office has many staff assigned to sell vegetable packs at 30 yuan a pack and take money. "Sometimes we can't buy food, and sometimes supermarkets and shops don't open. In short, it's scary," he said.
Protest against indefinite lockdown
Li, another Urumqi resident, told the Epoch Times on Sept. 29 that the local area had been under lockdown for more than two months. Recently, people have taken to the streets in many places to protest. and repressed.
"With many people without food or a source of income, they protested to demand the lifting of lockdowns in both districts and residential communities. During the protests, pandemic control staff and residents clashed. , pulled the neck and kidnapped the inhabitants!"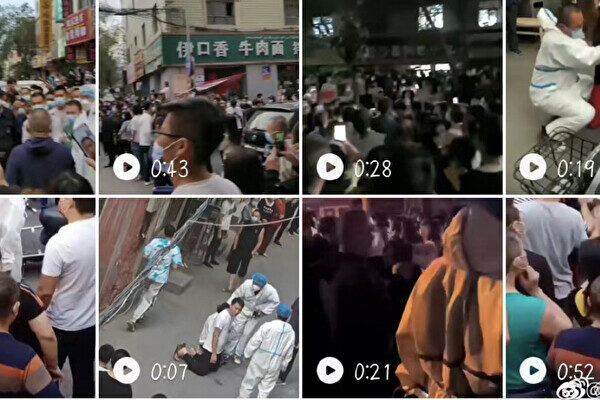 On September 25, throngs of people took to the streets of Urumqi's Wangjia Liang to protest the nearly 50-day lockdown. Someone knelt down in front of government quarantine staff and shouted, "The whole family can't live any longer." The video quickly went viral. Under public pressure, the local government lifted the blockade of the area.
Mr. Lee said: We've been quarantined at home for over two months, and strangely, some residents during lockdown are still testing positive. Tests positive for COVID. Others living in the same neighborhood were also confined to their homes. "
"The community office staff even told us they couldn't understand why some residents were still testing positive, even though all residents had been quarantined at home for two months.
Lee also said the lockdown appears to be indefinite. "The officials just ignore our calls. When we ask them when the lockdown will be lifted they just say they are waiting. [government appointed] Volunteers are allowed out and must otherwise stay home. "
Zhao Fenghua and Hong Ning contributed to this report.
[ad_2]