[ad_1]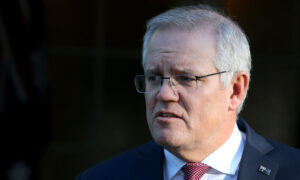 Senior economists said the media should not have stabbed Australian Prime Minister Scott Morrison to regret the slow deployment of vaccination.
Robert Curling, an expert on Australian government affairs and a senior researcher at the Center for Independent Research, said the media is playing a childish "pitfall" game with the Prime Minister.
"We need to get politicians to use certain words that we don't want to use. In this case, we're sorry," Curling told The Epoch Times.
Curling said it was much more important for Morrison to admit that his government made mistakes and was responsible.
"He's saying that now, and that should be enough," he said. "The media should ask him for an explanation, not playing a word game."
Comments from Curling were made in an interview about the federal government succumbing to pressure, demanding more blockade financial assistance, and succumbing to the state government coming after Morrison apologized for Thursday's deployment.
"I am responsible for the vaccination program." Morrison Said. "I am also responsible for the challenges we face. Obviously, some are under our control and some are not."
"It's certainly a shame that we didn't reach the goals we expected earlier this year," he said.
The Prime Minister's remarks came after Morrison stopped apologizing for the government's mistakes regarding KISS FM Jase and PJat Night. Radio program..
Curling said the federal government deserves blame for the current outbreak in Sydney due to low vaccination rates due to inadequate vaccine supply. But he states that this is a false story.
"Several states and federal opposition have succeeded in weaving the false story that it's all due to the federal government," Curling said. "The federal government is responsible for not ordering alternatives to the AstraZeneca vaccine early enough, but even if they do, we have never been vaccinated with a critical mass. There was never. "
Australia's vaccination rollout is about two months behind schedule and has received intense criticism of the government, placing Australia firmly at the end of the "competition" for vaccines from OECD countries.
However, according to Morrison, last month's rollout has increased significantly. At the beginning of June, just under 6% of people over the age of 15 were completely vaccinated, jumping to 15%.
[ad_2]