[ad_1]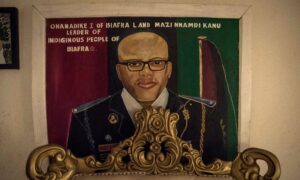 Nigeria's Jena Goa — Nigeria's local police chief and six bandits were shot dead during a clash in southeastern Imo, police said Tuesday.
The clash occurred on Monday when a large convoy of three vehicles was found driving in the town of Omama. Police attacked them, killing seven and arresting 11.
Police did not provide information on bandits commonly used to represent various criminals in Nigeria, such as armed robbers and kidnappers for ransom.
Southeastern Nigeria, home of the wart ethnic group, has been tense in recent weeks since the leader of a ban on campaigning to leave the region was detained abroad and returned to Nigeria to face a treason trial. There is.
Nnamdikanu, the leader of the Biafra Indigenous (IPOB) group, will appear in court in Abuja, the federal capital of central Nigeria, and many were in solidarity with him in the southeastern part of the country.
In the past, authorities have accused IPOB members of attacks on southeastern police stations. An IPOB spokesman said the shooter arrested at Omama was unknown to the group.
In recent months, anxiety has skyrocketed across Nigeria, partly due to financial difficulties.
The northwest is hit by a wave of mass abductions of school children by ransom seekers. The northeast continues to suffer from an Islamic rebellion that has killed an estimated 350,000 people in a decade.
Armed robbery is widespread throughout the country, and conflicts between nomads and peasants are also the cause of frequent fatal clashes.
By Tife Owolabi
[ad_2]