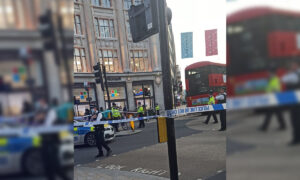 New Scotland Yard began investigating the murder after a fatal stab of an old man in central London on Thursday.
An unidentified 60-year-old boy was in the Oxford Circus in London when he was stabbed. He later died in the hospital.
Metropolitan Police Department A 25-year-old man said he was arrested on the scene. Initially on suspicion of serious physical harm and possession of offensive weapons, he was subsequently arrested on suspicion of murder.
The suspect is also unidentified and has been detained at the London Central Police Station.
Witnesses of the puncture wound told the PA news agency that they had seen the general public grab the suspect and disarmament it.
A passerby who asked not to name him said the general public "restrained him and put a knife in a cylinder."
"He was screaming shortly after a man grabbed him and the police held him down, but I couldn't hear him," the witness said.
"It was terrible. I didn't see much. Obviously it was very busy and I noticed something bad happened when people were screaming and shortly after the police were there."
The Metropolitan Museum of Art said the case was treated as a random, unprovoked assault, not terrorist-related, and police officers were not actively looking for anyone else.
Vicky Tanstall, Inspector Morse of Specialist Crime Command, said Met wanted to talk to the intervening civilians, especially "two young men with skateboards who led the intervention."
Tanstall also asked witnesses and anyone with footage of the incident's cell phone or dashcam to come forward.
PA contributed to this report.