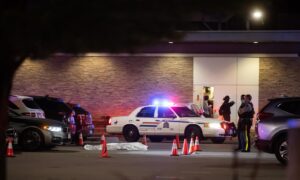 Burnaby RCMP is investigating a shooting incident at a shopping center in Metro Vancouver, where one died and two were hospitalized.
Police said they were called to the scene around 8:35 pm Thursday after receiving reports of gunshots at Market Crossing.
According to initial research, the shooting "doesn't seem to be a random act," they said in a news release.
They found a man with a gunshot wound and said he had succumbed to his injury despite all attempts to revive him. The other two injured are recovering in the hospital, they said.
They said the area around the shooting would be blocked for a considerable period of time as the Burnaby Mountains work with an integrated murder investigation team.
Suspicious information was not released immediately.
The shooting came shortly after British Columbia Solicitor Mike Farnworth met with police representatives to fully understand the "unbearable" situation facing the Lower Mainland community as the gang conflict intensified. Was done in.
The meeting on Thursday followed a recent shooting on the streets, in a shopping mall parking lot, and at an airport in Vancouver where gang members were killed or injured.
Fernworth said at a press conference earlier that day that he would have the opportunity to hear about how various law enforcement agencies are working together.
"It's also an opportunity to identify potential gaps," he said.
"Police said it wasn't about resources, so I'd also like to make sure there are no other areas we need to focus on."
He said the public needs to know that "every tool and every resource" influences this recent surge in gang violence.
"The police are doing everything we can," Fernworth added. "The message to the general public is that we are all focused on this."
The latest shooting on Thursday night comes after a 28-year-old gang member was killed outside the departure terminal at Vancouver's airport on Sunday.
28-year-old Karman Grewal was shot outside the departure terminal. Police obstacles, air support, and even gun battles with RCMP police officers could not stop the suspect from escaping.
Police tracking the escape vehicle ended when the car crew fired at law enforcement and collided with the cruiser's windshield without harming police, according to law enforcement officials.
Grewar was one of the five men nominated by the RCMP to be the target of the shootings in the 2017 news release. They were victims or intended victims, but they refused to speak to investigators, so Mountaines believed that men were at risk to public security.
Police warned of interaction with Grewal and others because of their target status.
Meanwhile, police announced on Monday that Ahmed Tahil was charged with first-class murder in a shooting in Burnaby last Saturday, killing 19-year-old Toni Dalipi and injuring a bystander.
Prime Minister John Horgan said this week he wanted to make sure that the government was "laser-focused" on dealing with crime.
"Of course, the first step in business is to stop the influx of young people into the gang's lifestyle," he said on Tuesday.
"But obviously, the brave nature of violence seen in the last two weeks requires law enforcement intervention."
Martin Bouchard, a professor of crime at Simon Fraser University, said gang violence would follow its own path, regardless of what was the initial motive for the conflict.
Conflicts between these gangs tend to go on cyclically, and once started, Bushar said they live their lives.
"Sometimes these start with a perception of contempt between the two," he said.
"It's possible that the romantic relationship didn't work, as you know. Regardless of the initial motive, we're in a cycle of retaliation. It goes well following that course. Then you will come to a conclusion soon. "
Hina Alam