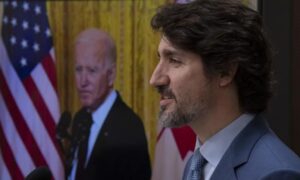 Ottawa-Western Canada and Ontario say that the federal government's new goal of reducing greenhouse gas pollution by 2030 has not been discussed.
At the recent Global Leaders Summit, Prime Minister Justin Trudeau has promised to reduce emissions by 40-45 percent from 2005 levels by the end of the decade.
This is 4-9% higher than the 36% that the Liberal government says can be achieved under existing measures, and already exceeds the 30% target promised under the Paris Agreement.
Under international contracts, countries are required to continue to submit domestic greenhouse gas reduction targets, each of which appears to be more ambitious than last time.
Environment and Climate Change Minister Jonathan Wilkinson called on opposition leaders to provide ideas on what the new goals should be before Trudeau announces the new goals.
However, the Environment Ministers of Alberta, Saskatchewan and Ontario say they have not been consulted.
"The fact is that federal ambitions are state-dependent," said Andrew Butigieg, Media Relations Manager and Assistant to Ontario's Minister of the Environment Jeff Yurek.
"We need to continue discussions, and if the federal government is looking for new policies and programs, we will need financial support from the federal government."
Manitoba's Minister of Conservation and Climate, Sarah Guillemard, said in a statement that "even if the hard work needed to achieve actual measurable GHG emission reductions rests on the states and territories," the states will not be discussed. Said that.
Liberal's latest climate plan, announced last December, states that "cooperation and involvement with states and territories continues until the announcement of the latest National Decision Contribution (NDC), a national greenhouse gas reduction target. I will do it. " Is called.
A spokeswoman for Nova Scotia's Environmental and Climate Change Department said it was constantly discussing Ottawa-supported emission reductions, although some states said it was unconsulted.
"By 2030, Nova Scotia's goal, we will help Canada meet its promise by 53% below 2005 levels," said spokeswoman Barbara McLean.
The Minister of Environment, Energy and Climate Action of Prince Edward Island also welcomed the higher goals.
"We look forward to more funding available to reach these ambitious goals as federal goals approach state goals," Stephen Myers said in a statement.
Canada's new goal is less ambitious than the US goal, which promises to reduce greenhouse gas emissions by at least 50% by 2030.
Stephanie Taylor