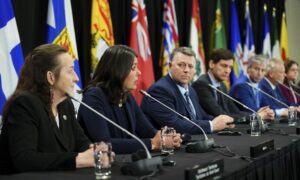 Heather Stephenson, Manitoba's premier and chairman of the Coalition of Prime Ministers' Council, said Monday that the country's prime minister has agreed to accept an offer of a 10-year contract for federal health care funding. States and territories requested.
The states are reportedly now working to finalize their individual agreements with the government, with the prime minister Said They plan to push some aspects of funding with bilateral agreements.
On February 13, Stefansson appeared on CBC's Power & Politics program and said: "
"We are accepting this for now and moving to a bilateral agreement," she said. Said.
The approval of the transaction, which provides provinces and territories with federal funds for health care in the form of Canadian Health Transfers (CHT), was finalized on February 12 by Dominique Leblanc, Minister for Intergovernmental Affairs. It follows a comment that the amount is undecided. for negotiations.
"We're not negotiating to buy a residential property here. We make a counter offer and then a counter-counter offer," LeBlanc said. interview Along with CTV question time.
"What we said is that it is a financial commitment that the Canadian government believes it can make," he said. "This is an important commitment, a long-term commitment, and we have asked each state to speak with us to come up with the best agreement within the financial parameters of their jurisdictions."
The Liberal government proposed on February 7 to provide states with a total of $196 billion in health care costs, of which $46 billion will be new funding. The government also defined a set of conditions for accessing funds.
"In order to access federal funding, including the 5% CHT guarantee, state and territory governments must commit to improving the way health information is collected, shared, used and reported. …increase the transparency of results and manage public health emergencies." statement It was issued by the Prime Minister on February 7.
The state budgeted $204 billion for health care this year, hoping to increase the federal burden to 35%, or about $28 billion annually. Instead, CHT was set at his $45 billion (about 22%). This means, on average, less than $5 billion in new funding each year. The federal government says bilateral agreements with states have already borne nearly 38% of the cost.
Each state or territory negotiates the details under bilateral agreements to identify specific priorities in each jurisdiction and to improve healthcare on four "shared health priorities." You need to create an "Action Plan" that describes how the funds will be used.
These include "family health care". Healthcare workers and backlogs. mental health and substance use; and modernizing the healthcare system with standardized information and digital tools. "