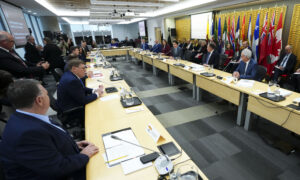 State and territory chiefs will meet on Feb. 10 to discuss federal proposals to increase health care funding to states, according to the report.
Newfoundland and Labrador Premier Andrew Fury said: "We will have a meeting on Friday and I want to move quickly." interviewing On CBC's "Power & Politics" on Feb. 7.
Prime Minister Trudeau's proposal, presented on February 7, would send more than $196 billion to states and territories over the next decade to improve their health care systems. three quarters of that money It was already promised in previous existing transfer ceremonies and deals.
The federal proposal also fell short of the prime minister's collective call for a 35% federal share of state health care funding.
the prime minister said Trudeau's proposal would only increase federal contributions to state and territory health care costs from 22% to 24% in 2024.
Manitoba's Premier Heather Stephensson, who serves as chair and spokesperson for the Prime Minister's Group, said she was "a little disappointed" by the offer.
"In terms of baseline funding for Canada Health Transfer, it's significantly less than we were looking for," she said.
BC Premier David Eby said the government's proposal was "financially constrained" and Alberta Premier Danielle Smith echoed Stefanson's remarks in a statement issued on February 7.
"[While the offer] is a start, but overall this is well below the Prime Minister's expectations," Smith's statement read.
But Ontario Premier Doug Ford his state said "Never turn down new funding."
"This is a starting point. It's a down payment for further discussions," Ford said.
Other measures
Meanwhile, on CBC's "Power and Politics" news program, Prince Edward Island Prime Minister Dennis King, speaking with Fury, said his state needs to receive funds quickly to support its health care system. said.
"As Prime Minister of Prince Edward Island, I don't think I'm in a position to say, 'I don't want this money from the federal government.' I want it," King said.
"Can I use more? Absolutely. Will I continue to lobby? Yes."
King added that he is ready to start talking with Ottawa about how quickly bilateral funding can be provided to state governments.
Federal Conservative Party leader Pierre Polivre criticized the government's proposal but said he would keep it if he was elected prime minister in the future.
"I regret that the Chancellor bankrupted the Federal Bank and wasted so much money," Polivre said on February 7.
Canadian Press and Marnie Cathcart contributed to this report.