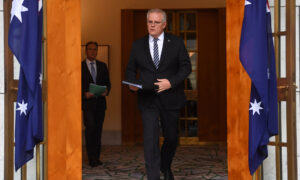 The Morrison administration plans to bring the devastating labor relations reforms back to the negotiating table as the next federal election approaches.
In March, the coalition government rushed to pass a controversial comprehensive IR bill, stripping all provisions except for changes surrounding non-regular workers and their definitions.
In response, industry leaders welcomed small changes. They also urged the Prime Minister not to waive the rest of the bill, including changes to the Greenfield Agreement, expedited business negotiations, and giving employers more rights to change employee terms.
Labor-Management Minister Michaelia Cash confirmed that the government plans to re-pursue changes to the Greenfield Agreement, a workplace agreement for large-scale construction projects. The plan is to double the duration so that stakeholders such as builders do not have to renegotiate new contracts in the middle of the project.
"we [the coalition government] We are ready to increase the certainty of our investment in mining, but Labor needs to pave the way for blocking the law. " Cash said Australian Financial Review.
"Currently, 108 mineral projects are in the feasibility or feasibility stage across Australia. Together, these projects are worth $ 47 billion, with approximately 30,000 construction works and 21,000 ongoing projects. Employment will occur.
"When Labor voted against the law reforming the Greenfield Agreement, Anthony Albanese couldn't say it supported the mining industry," Cash said.
Prime Minister Scott Morrison recently mentioned the reform of the Greenfield Agreement at a dinner at the Australian Minerals Commission on June 3.
"We aimed to legislate these Greenfield arrangements through Congress, and we hope they will continue to be legislated in Parliament," he said. Morrison said"They are important for investment. They are important for work. They are important for the resource sector. We want it. We have always asked for it. We are here. Opponents are against it. "
Several ministers, including industry leaders, the prime minister and the finance minister, have stated that reforming the Greenfield Agreement is "modest" and "wise."
Labor, the Greens, and the Australian Council of Trade Unions (ACTU) are strongly opposed to this change because of concerns about harm to employees.
The ACTU was worried that the bill would make workers more difficult to negotiate, deprive blue-collar workers of their rights on large-scale projects, and weaken penalties for wage thieves. The government billed Omnibus in March. When they abolished most of the provisions from, they called it success.