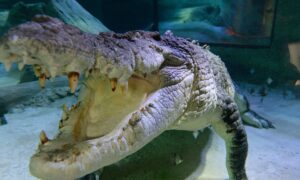 The female sister who fought the crocodile after the crocodile attacked her twins in Mexico said she was "very proud" of her actions.
Melissa and Georgia Laurie, 28, from Berkshire, were attacked by a crocodile while swimming in the Mexican lagoon about 16 kilometers from Puerto Escondido during the day. To save her, Georgia I hit the crocodile and repelled it.
The two are recovering in a Mexican hospital, Georgia suffering a hand injury, but Melissa is in a medically-induced coma to prevent infection.
The twins were volunteering with animals in the countryside and were resting when the crocodile attacked.
Her twin sister, Hana Laurie, 33, told a Georgia news agency that she had repelled the crocodile three times.
"I was really proud of her. I was very proud of her," she said.
"Georgia is okay, tired and really stressed. I think she's really scared, but she's awake and has a wound on her hand. Melissa is still in a provoked coma. "
Hana said the family was unbelievable when she knew what had happened, adding that the event was "very rare and very rare" and "did not believe it would happen to them." T.
According to their twin sisters, the two booked a guided tour through the hostel, but the women were later found to have taken their tour guide to an unregistered and deprecated beach. did.
"He's an unlicensed tour guide, and according to someone on his Facebook page in Mexico, he's been touring illegally in unsafe and unregistered areas, and he's been doing it for a while," Hana said. Told.
"He goes to where the crocodile lives and not where all legally licensed tours take place. He seems to have been called locally before, but that's My sisters weren't informed. They learned the information through the hospital. "
The family is currently trying to find out if they can fly to Mexico to help the twins, but added that it would be more difficult as it was expensive and Mexico was on the British amber list.
A spokeswoman for the Foreign, Commonwealth and Development Department said, "We are supporting a family of two British women who are hospitalized in Mexico and are in contact with local authorities."