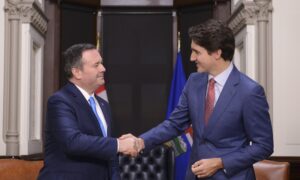 Calgary — Prime Minister Justin Trudeau will meet with Prime Minister Jason Kenny and Mayor Naheed Nenshi in Calgary today.
A spokesman for the Prime Minister's Office wants Kenny to discuss with the pipeline the reopening of the border closed for COVID-19.
Jerika Goodwin says Premier plans to file a fair deal for Alberta in the Commonwealth.
She also reiterates why he thinks it's important to wait for the Senate to fill vacant seats until the end of Alberta's October candidate elections.
Trudeau's office confirmed that he would spend Wednesday in Calgary. There, we will visit a local company with federal COVID-19 pandemic support, meet Nenshi, and visit a transportation maintenance facility with the mayor to announce.
The stop in Alberta came after a visit to Kauses First Nations in Saskatchewan on Tuesday.
First Nations, east of Regina, was the first to sign an agreement with Ottawa. Under this agreement, children's jurisdiction is returned to the community.
Kauses is also the location of a former residential school where ground penetrating radar detected a potential 751 unmarked tomb last month.